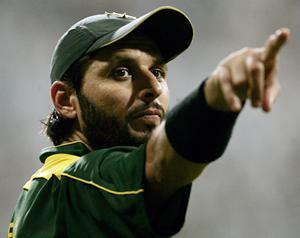 Hampshire has denied signing swashbuckling Pakistan all-rounder Shahid Afridi for the remaining part of the Friends Provident Twenty20 championship.
Afridi, who resigned from Test captaincy following last week's 150-run defeat against Australia in the first Test at Lord's, had hinted at a deal with Hampshire. However, the English county side that the all-rounder would not be coming into the side.
"Shahid won't be joining us," Hampshire manager Giles White told BBC Radio.
White said that his team is already packed, and it would be difficult to accommodate Afridi in the side for the quarter-final tie against Warwickshire.
"Even if there was a chance of him coming, we wouldn't be able to register him in time for the quarter-final on Monday. We've already got Abdul Razzaq and Dan Christian, and they will be trying to help us get through to our first ever finals day," he said.
After announcing his retirement from Test cricket Afridi had said: 'I had to abandon my plans to play for Hampshire this season when Pakistan needed me for the Tests. I made my decision to step down and now Hampshire want me for the rest of the T20.'