Cricket Australia is likely to drop John Howard as its candidate for the International Cricket Council's president-elect post on Friday, a media report said.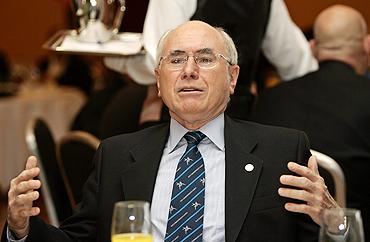 According to a report in The Australian, CA is expected to take the decision in its special board meeting scheduled for Friday.
"The meeting is expected to begin the search for a new nominee but there are growing fears in the Australian cricket community that the ICC's disgraceful and unconstitutional snub of Howard will ostracise other quality candidates," the report read.
"While anger still remains among CA and New Zealand Cricket board members over the ICC's rejection of the former prime minister, there is a growing feeling that renominating Mr Howard would only antagonise the bloc that controls cricket," it added.
ICC last month rejected Howard's candidature for the international body's top post after the powerful Afro-Asian bloc opposed the former Australian Prime Minister's nomination.
"The Cricket Australia board is yet to discuss any names (of alternative candidates)," a CA spokesman said.
To compound CA and NZC's problems,  Howard's first-choice replacement John Anderson of New Zealand has refused to take up the job.
The report said that with both Howard and Anderson out of the race, CA chairman Jack Clarke and his New Zealand counterpart Alan Issac are the front-runners for the new joint nomination.