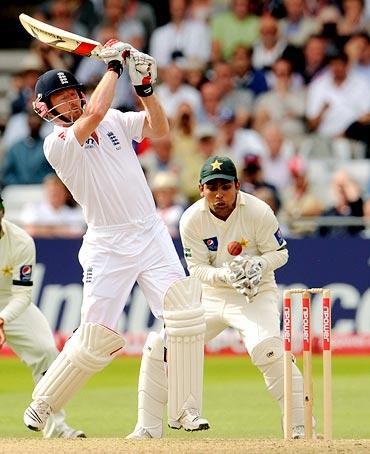 Former Pakistan players demanded ouster of wicketkeeper Kamran Akmal after his poor performance behind the wickets during the ongoing first Test against England in Nottingham.
Akmal on Thursday brought back memories of his horrible show against Australia early this year when he dropped Andrew Strauss and fumbled many times on the first day of first Test against England.
"We have good replacement wicketkeepers and it is time to try them out. Kamran's keeping was horrific and the moment he dropped Andrew Straus he came under pressure. Even after so many years of international cricket his basics are wrong and he keeps on committing the same mistakes," former opener Aamir Sohail said.
Sohail said he is surprised that Akmal does not display the same natural instincts when he has run out, catch or stumping chances like other keepers.
Former coach Intikhab Alam and assistant coach Aaqib Javed had raised suspicions about Akmal having links with bookmakers when they appeared before the inquiry tribunal that probed into the national team's poor show in Australia.
Both said the way he kept in Sydney shocked and surprised them and raised questions in their mind.
Akmal dropped a simple sitter from Strauss early on and missed an easy stumping chance off Danish Kaneria later in the day and in between made several fumbles at Nottingham leaving Pakistan in a precarious position.
Former Test leg-spinner and ex-chief selector Abdul Qadir said he was shocked by Akmal's performance.
Qadir said if Akmal had not made the mistakes, the situation could have been different for Pakistan. England eventually ended the day on 325 for four with Eion Morgan scoring a hundred.
"Kamran kept very badly today and I think this is hurting Pakistan cricket a lot. The team management and selectors now need to think seriously about the future," Qadir said.
Pakistan have a reserve wicketkeeper Zulqarnain Haider in the touring party in England but the youngster is in mainly because of his batting skills more than his keeping skills.
Former wicketkeeper-batsman and captain Moin Khan said Akmal is not doing his basics right and needs to go back and work hard on his skills.
"Wicketkeeping is a very important department for any team and if a keeper makes so many mistakes on one day then it is the team that suffers," he said.
Images: Pakistan wicketkeeper Kamran Akmal (right) misses a stumping chance to dismiss Paul Collingwood during day one of the first Test against England in Nottingham, on Thursday.
Photograph: Reuters