Suspended IPL Commissioner Lalit Modi on Monday accused the BCCI of harassing him through showcause notices which he termed as a "ridiculous affair".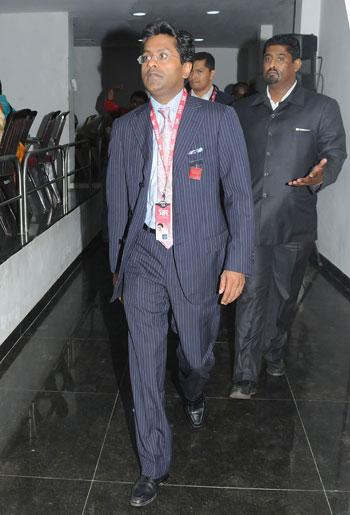 After submitting the hard copy of Modi's reply to the second showcausenotice, his lawyer Mehmood Abdi said the third notice slapped on Monday on his client was basically another way to harass him.
"This is an afterthought to further harass Mr Modi. Our main line of defence is Lalit Modi has nothing to hide. This showcausebusiness has become a ridiculous affair. If they had some issues all should have come in the first showcausenotice," Abdi said.
He also referred to the series of allegations Modi had levelled against BCCI secretary N Srinivasan, who also co-owns the Chennai Super Kings IPL team, and sought his suspension.
"Lalit Modi was issued a showcausenotice and put under suspension on the basis of hearsay and gossip whereas in his requisition application he levelled serious allegations in writing against Mr Srinivasan.
"As per judicial propriety and fairness it had left the BCCI President with no option than to issue a showcause notice to Mr Srinivasan and put him as well under suspension till the inquiry in the matter is completed as was done to Mr Modi," Abdi said.
Modi had earlier accused the BCCI secretary of misusing his power and having conflict of interests.
Modi was slapped the first showcausenotice on April 25 in which he was charged with financial irregularities, including bid-rigging. BCCI slapped a second showcausenotice on May 6, acting on an e-mail from England and Wales Cricket Board chief Giles Clarke, who accused Modi of trying to run a parallel IPL in England and Wales.
The third showcausenotice, issued on Monday, relates to selling of theatrical rights and 150-second commercial breaks in between balls during IPL III.
Modi sent a staggering 15000-page reply to the first notice, while Abdi submitted the reply for the second.
Abdi dismissed charges that Modi, during his meeting with English county representatives in Delhi, tried to incite them to revolt against ECB, as was alleged by Clarke.
"It was a brief and casual luncheon meeting...What was described as sinister and diabolical (by Clarke) was nothing but casual luncheon chit-chat. Many things are discussed in a chit-chat," Abdi said.
About defamation notice sent on Monday by Modi through his London solicitors to Clarke, Abdi said the ECB official needs to tender an "unconditional apology" withing seven days.