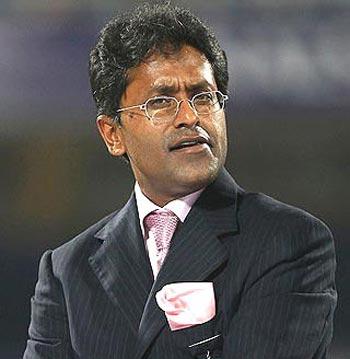 Despite all the controversies surrounding him, suspended IPL commissioner Lalit Modi is a relaxed man. He has taken a break and is holidaying in Italy. Having toured Milan and Rome, this weekend he will be in Florence, where members of the Modi clan will descend for a family wedding.
Earlier this week, he had instructed his London solicitors Carter-Ruck to initiate libel proceedings against England and Wales Cricket Board chairman Giles Clarke, after the latter accused him of plotting to form a rebel Twenty20 league in England.
"I am not the type to give up and walk away," he was quoted as saying in the Telegraph.
"I don't want to go down that path (legal action) until it is necessary to do that but we will take it to the logical conclusion.
"The IPL is absolutely and totally clean, there are no doubts about that. All the investigations are going on and they have not come up with anything and they are not going to because it is absolutely clean.
"I felt it was important to answer every question with documents that showed exactly when and why approvals took place. I also wanted to show who was part of the process and we had 100 per cent everything approved," he added.
Defending his decision to take legal action, Modi said: "I was totally shocked and disgusted by how the events were portrayed by him (Clarke).
"I was not inclined to have a meeting because I didn't have the time but I went out of my way to explain the process out of courtesy because they came over, watched our matches and asked for my time.
"What Giles Clarke has said and done is absolutely not true and I have done this [taken legal action] because he has tarnished my name for no reason.
"When the ECB does want to do something I am sure they (IPL owners) will want to do something. But whether that happens or doesn't happen depends on what the proposal is."
Ever since Modi posted a message on Twitter raising questions over the ownership of the Indian Premier League's Kochi franchise, which former Union Minister Shashi Tharoor backed strongly, he has faced allegations of financial wrongdoing.
Tharoor was forced to resign as Minister of State for External Affairs when it came to be known that his friend Sunanda Pushkar got sweat equity of Rs 70 crores in the Kochi team. Subsequent revelations also triggered a raging political controversy that has brought under the scanner the alleged role of Union Ministers and NCP leaders Sharad Pawar and Praful Patel in IPL.
"I don't regret at all what happened or what I sent," Modi told the Telegraph. "As chairman of the IPL I was uncomfortable about something and I was being pushed around and I had no choice but to put it in the public domain.
"I may have rubbed people up the wrong way because of how we operated; but we operated for the best interests of the league. We have always worked for the best of cricket and we have successfully done that over the years."
Besides the allegations of financial irregularities, there is also talk that matches were fixed in the League's second season in South Africa.
Modi dismissed that too, saying: "There is absolutely no match-fixing in the IPL and the allegations being floated are just motivated by people to find ways and means of undermining all over the world what we have done.
"The IPL is an extremely competitive tournament. All the owners want to win. All the players want to win. We have zero doubts about their integrity."
Asked if he would be in charge during IPL 4, which commences next April, he replied: "I don't want to get into that. Wait and watch.
"The IPL is a strong product. It has strong owners. We have in place a good system and it is here to stay."