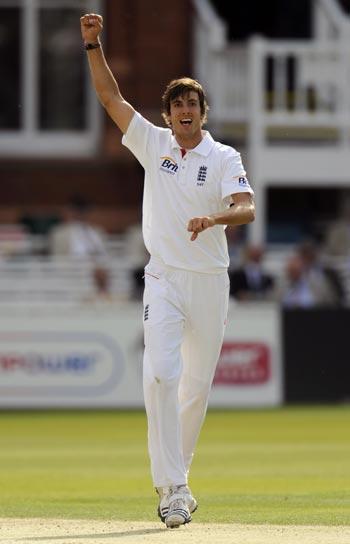 England coach Andy Flower has dismissed growing comparisons between the team's new fast bowling sensation Steven Finn and Australia's most successful pace bowler Glenn McGrath.
Finn, 21, made his Test debut in Bangladesh this year and recently played in both Tests against the same opposition, claiming nine wickets at Lord's and then a match-clinching five for 42 on Sunday as England won the second test inside three days. He was England's man-of-the-series.
"I don't like to make those comparisons," Flower said in a telephone interview when asked if Finn was England's answer to McGrath, who was also tall, wiry and renowned for his accuracy and for the ability to extract awkward bounce.
McGrath retired in 2007 with 563 Test wickets.
"Steven Finn is unique in various ways," Flower added.
"He is very much his own man. Comparing him to other fast bowlers, to me, is not useful. But he has a lovely action.
"He has been very impressive. He's played four Test matches now, and it's fair to say he's learning all the time.
"He has very, very good control for a 21-year-old fast bowler. I think that comes from his action, and also a very sound and grounded personality.
"It is a great start for him, but he also realises that he has scope for learning and progress," Flower added.
Finn's early progress would suggest that he would be part of the England attack in the Ashes series against Australia, which begins in Brisbane in November.
Flower said Finn would now follow in the footsteps of fellow England fast bowler Stuart Broad, and undergo a strengthening programme designed to help his body cope with the rigours of international cricket.
It is likely to keep him out of this month's five-match one-day series against Australia, which Flower said was not a tactic to shield the newcomer from Australian batsmen keen to gain a familiarity with his bowling ahead of the Ashes.
"It does not have anything to do with Australia, or the Australian series," Flower said.
"This is definitely not rest; he will be doing a very intensive strengthening programme.
"He is a young man that needs to develop more physically, and there is a window of opportunity to do that. It is the responsible thing to do for him personally and in the best interests, medium and long term, of the English cricket side," Flower explained.