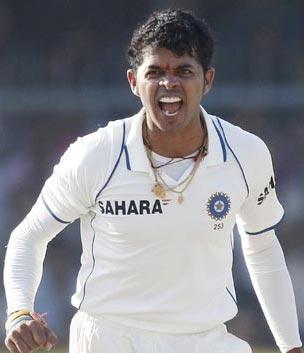 Out of the Indian Test team for a while, pacer S Sreesanth on Wednesday said he is fully fit and training hard at the National Cricket Academy (NCA) to make a comeback.
"I am working very hard and I want to play for the country. I am really hoping to make a comeback into team India," Sreesanth said.
The tempermental Sreesanth, who played for the King's XI Punjab in the Indian Premier League, said young cricketers get much needed exposure by playing in the Twenty20 tournament.
"The IPL has given more opportunities for youngsters," he said.
On not being appointed as captain of the Kerala Ranji Trophy team, he said he is "disappointed".
He said he has been working hard for improving Kerala cricket and helping the youngsters. "In the last season, I had led the state in one match," he said.
"Though I have not taken a final decision,I might opt for playing for another state in the coming season," Sreesanth, apparently hurt at not being appointed as captain, said.
Sreesanth said immediately after Raiphy Vincent Gomes was chosen as the Kerala captain, he had sent a congratulatory message.
"Even if I play for some other state, it is because I want to play more cricket so that I could do well and get into team India", he said.
Terming Sreesanth's reaction as 'emotional', KCA secretary T C Mathew said "captaincy is not demanded by any players."
"If Sreesanth has decided to play for another state, then he will have to obtain NOC (no objection certificate) from Kerala Cricket Association. Once application is given for NOC, the KCA's central council will discuss and take a decision on that," he said.