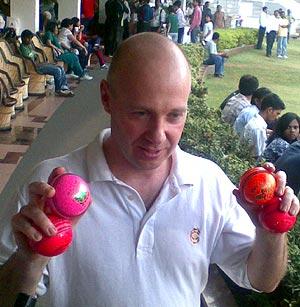 If a day-night format is the future of Test cricket, then coloured balls will certainly have a role to play, says the Marylebone Cricket Club (MCC), the guardians of the sport.
"The beauty of this colour, as opposed to white, if we are throwing forward the idea of day and night Test cricket is that you can play with coloured clothing or white clothing. A lot of people, including MCC, have stressed that they would like to see Test cricket remain in white and the beauty of the pink or orange is that you can still play in whites," said Fraser Stewart, Laws and Universities Manager of the MCC, in Mumbai, on Tuesday.
Stewart is currently in Mumbai for a trial of the three versions of pink balls -- Dukes Pink, SG Pink, Kookabura Pink -- during the practice games of the Indian Premier League.
The ball was tried and tested for the first time in the country in a charity match in Mumbai on Tuesday in which India players, like Suresh Raina, Ishant Sharma, Praveen Kumar, Ishant Sharma and Gautam Gambhir, took part.
"We have got various pink balls, like Dukes Pink, SG Pink, Kookabura Pink, Dukes Orange, and what we are doing at MCC is conducting a whole lot of research into coloured balls. In the game here today it is a 15-overs game but they have decided to use all three pink balls, which mean five overs each for all the three balls. After the game we would be talking to the players to see what they thought, how they compared it against one and another and also against the white ball and red ball too. The feedback from someone like Ishant Sharma, who has played at the international level, would be really grateful," Stewart said.
He pointed out that the most encouraging signs for the future of pink balls came from the West Indies, where it lasted 119 overs in day-night four-day first class matches.
"We have been involved in trials a lot in England in the MCC University cricket that we run there. They have also been used in first class cricket in the Caribbean, four-day day-night cricket and that was the Duke Pink. The first ball lasted 119 overs and we were pleasantly surprised because there were rumours floating around that it would not last very long. There have been trials in Abu Dhabi by a MCC touring side, who are playing some games there.
"There have been trials in Australia in state cricket, some players were happy while some were not quite sure. It is fantastic to come here to India and get feedbacks from some of the great players around the IPL. I would be compiling a dossier and the report would go to the IPL, [International Cricket Council] ICC, [Board of Control for Cricket in India] BCCI on the different balls and it is up to the game to take it on," quipped the MCC administrator.
Meanwhile, IPL commissioner Lalit Modi on Tuesday stressed that Twenty20 cricket would surpass all formats of the game in the near future, while Test cricket needs to go day-night if it has to survive in the long run.
In October 2009, the MCC conducted a survey in India, New Zealand and South Africa, and in all three countries the majority of fans said they would consider attending five-day games if changes are made to the timings.
So, predictably, Stewart said the MCC is seriously considering the prospect of holding day-night Tests in the near future.
"The MCC World Cricket Committee, which also features Anil Kumble and Rahul Dravid, said we should atleast explore the possibility of day-night Test cricket. It is not suited to every country because there are issues with dew but there are certain places where MCC conducted some research in October 2009 in India, South Africa and New Zealand.
"But there is a market for day-night Test cricket and people would prefer to go after work for a couple of sessions. So what we are trying at MCC is to help the game and help it move on and if it is day and night Test cricket so be it," he said.
But, as is the case with all new experiments, the MCC, which writes the rules of the games, said if the coloured balls are not accepted by the players and crowds, they could also be taken back.
"If the players say they don't like it and the crowds say they don't like it then perhaps we are back to square one, but I don't think we should be afraid of trying out things for the good of the game," he added.