Sachin Tendulkar's historic ODI double hundred is a feat that only Virender Sehwag can match or surpass among the current crop of batsmen, feels England's Ravi Bopara, who doesn't foresee it happening anywhere outside India.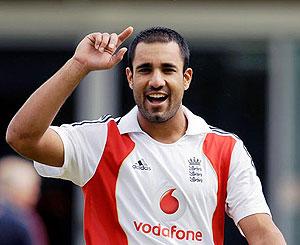 Bopara feels Tendulkar has nothing more to achieve in his illustrious career after becoming the first batsman in the history of cricket to notch up an ODI double ton.
"Sachin, by scoring the double century, has completed himself and achieved everything. As a batsman he is complete. He has all what a batsman wants from the three formats of the game. He has got so many 100s and 50s in Test and ODI cricket. He is a great, great player," Bopara said.
"To be very frank, you don't expect anyone to score a double hundred in ODI game. It's historic and unbelievable. To maintain that rate of acceleration and to bat that long is difficult," said Bopara.
He said Tendulkar's opening partner Sehwag is the only batsman with a realistic chance of breaking the record, given the aggressive way he scores.
"Sehwag is promisingly the number one candidate. The way he scores definitely makes him the possible contender. He has got the chance. He comes as a opener and plays aggressively,"  Bopara said.
He also feels that if the record is ever broken, it would be in India.
"I imagine that would be in India. I think the wickets suit such kind of batting and batsmen can go for it. You can be aggressive in your style. Sometimes, you can see people scoring 50 runs in just six overs. I think it will happen here only but when, don't know. Probably 10 years from now," he said.