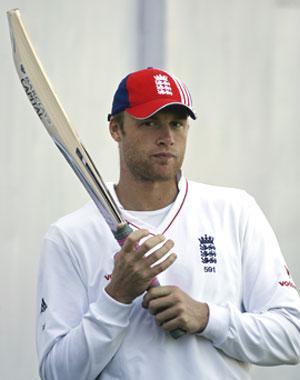 England all-rounder Andrew Flintoff, who retired from Test cricket last year and is currently recovering from surgery, will play again, according to Lancashire coach Peter Moores.
Flintoff has been blighted by injuries and went under the knife in January in a bid to cure a long-standing problem with his knee, which was originally operated on in September.
And while Flintoff now admits there is a slight chance he may never make a comeback, Moores remains confident.
"I've no doubt at all that Freddie will play again. When the surgeon had another look at the knee, the fact that he was happy with it is the main thing — that it's repaired or repairing well," The Sun quoted Moores, as saying.
"Fred has got to do his rehab but he has shown in the past that when there's a will for him to do it, and he strongly wants to play, he'll come through," he said.
"Having watched Fred do his rehab before — I'm very confident he'll play again. He's got to do his stuff if he wants to play. The key will be how it stands up over time and the pressure of playing, which nobody will know," Moores added.