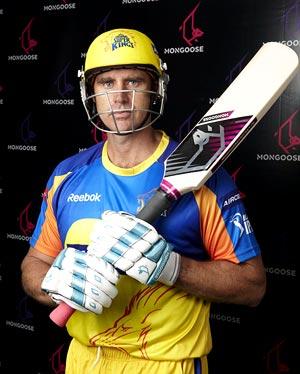 Chennai Super Kings opener Matthew Hayden on Thursday launched the Mongoose bat, designed specifically to meet the new distilled demands of Twenty20 cricket.
The Mongoose bat is a shorter, more rigid blade is teamed with a longer, more flexible handle to offer increased power, faster bat speed and better manoeuvrability.
The splice is incorporated into the handle to remove any dead spot from the hitting area and the shoulders have been reconfigured to add weight to the back of the blade.
Former Australia opener Hayden is confident that the new bats, with a bigger sweet spot, will help the batsmen hit harder, faster and further.
"The Mongoose has the potential to revolutionise cricket. Without changing your technique, the bat allows you to hit the ball harder and further. Its power is phenomenal and without a doubt, I am looking forward to playing many successful games with it," Hayden said in Chennai.
The Mongoose is poised to rewrite record books in the same way that titanium-headed drivers and graphite rackets revolutionised golf and tennis. Because it can be lighter in weight while still offering great power, the Mongoose is ideal for players of all abilities and juniors.
In spite of its radical design, the MCC has confirmed that the patent-pending Mongoose bat is legal and is allowed to be used throughout India and Indian sub-continent all levels of cricket.
For the IPL, Mongoose Cricket is launching two limited edition models of the Mongoose MMi3. The MMi3 super premium is made of pro-grade English willow, only 40 super premium bats will be launched throughout India, each bat will be uniquely numbered from 1-40 and will be hand signed by Hayden.
The MMi3 premium is made of grade one English willow, and a limited range of 60 numbered and hand signed bats by Hayden will be available.
The bats will be available at limited retailers throughout the eight cities of the IPL.