There is a real danger that the only memory we will retain of the India-South Africa One-Day International series played last month is Sachin Tendulkar's historic double century.
That would be sad because South African AB de Villiers performed just as well with two sparkling centuries at a great strike rate.
Jacques Kallis performed and led admirably, and Ravindra Jadeja did nothing on the playing field to warrant his Indian Premier League ban.
Who says only Pakistani players can be banned?
The table below (Table 1) lists the most valuable players (MVP) of the ODI series. Players are most likely to qualify if they score a lot of runs at a high strike rate, take a lot of wickets with a low economy rate and field competently.
Table 1: The most valuable players in the India-South Africa ODI series (3 matches)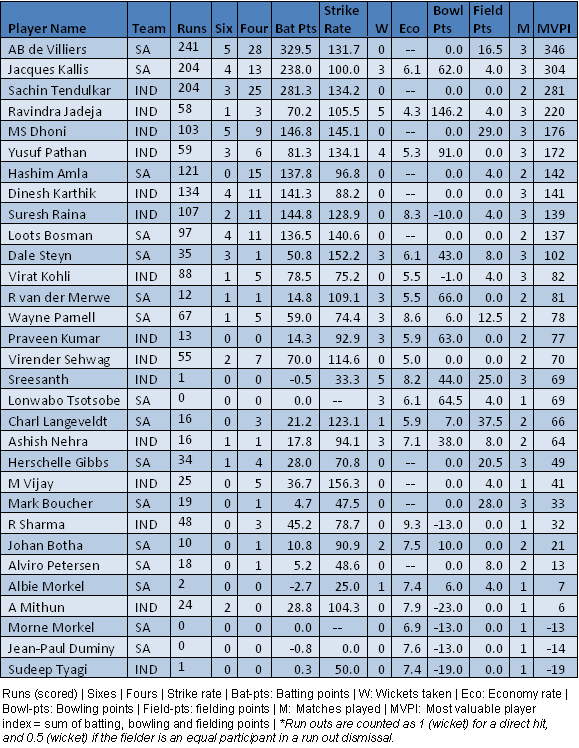 Captain Mahendra Singh Dhoni is still India's MVP of the current 2009-10 season, but Tendulkar has come dangerously close. The master batsman would almost certainly have topped if he had played as many matches as Dhoni (he has played 17 to Dhoni's 26) -- that is why Tendulkar has the best average MVPI.
Another interesting observation from Table 2 is the number of sixes hit by Suresh Raina (16). We know that Virender Sehwag, Yuvraj Singh and Dhoni hit a lot of sixes, but didn't realize that Raina is in the same league.
Table 2: India's most valuable players in the 2009-10 ODI season (28 matches so far)