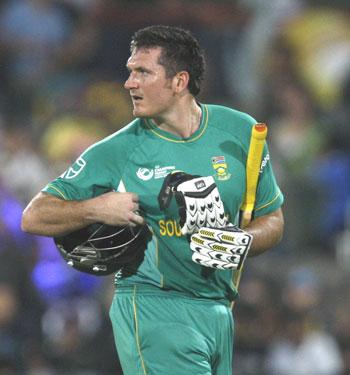 South Africa cricket captain Graeme Smith could miss the World Twenty20 tournament in West Indies due to a finger injury.
Smith, who was hurt on Monday during the Indian Premier League, had said on Twitter that he had a double fracture of his right middle finger.
He is due back in South Africa later on Wednesday when the full extent of his injury will be made known but he is expected to be out for up to six weeks.
South Africa media officer Michael Owen-Smith said they had not heard any news from India about the severity of the skipper's injury.
"Our team doctor, Mohammed Moosajee, said that injuries similar to Graeme's usually take three to six weeks to heal," Owen-Smith added.
"Graeme is bringing all the X-rays back with him and we will be able to make a full diagnosis once the X-rays have been seen."
The World Twenty20 in West Indies starts on April 30, South Africa's first game is against India on May 2.
Smith has only just recovered from a finger injury to his left hand, which he suffered in training before a test match against India in February.