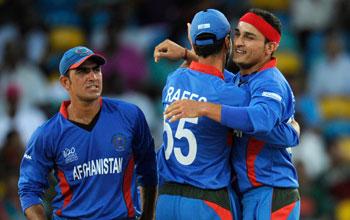 Afghanistan bowed out of their first major cricket tournament on Wednesday, then urged the game's top nations to give them a chance to gain greater experience and exposure.
The team from the war-torn nation, which includes players who learned the game in dusty refugee camps near the Pakistan border, lost their second Twenty20 World Cup game against South Africa on Wednesday, ending their involvement in the Caribbean.
The results, following an earlier loss to India, were no surprise but their Pakistani coach Kabir Khan was bubbling with pride about the way his team had competed.
On Wednesday, Afghanistan's bowlers, including the impressive Hamid Hassan restricted South Africa to 139-7 but then, against the pace of Dale Steyn, slumped to 32 for eight in reply, before eventually recovering to be bowled out in the 16th over for 80.
"Against India there was all sorts of pressure on them, there was television, there were the big stars, there was the crowd and they coped with it very well," he told reporters.
"To restrict a batting line-up like South Africa to 139 is a big achievement so there are all sorts of pluses for them," he added.
A particular plus was Hassan, who took three wickets and then hit two big sixes in a promising innings of 22.
Hassan, along with team-mate Mohammed Nabi received training in England as part of the MCC's Young Cricketers scheme and his coach believed there needs to be more foreign experience for his players, who do not have a domestic league or serious facilities.
"The key is they need to be exposed to that pressure again and again and then they'll get used to it.
"We were talking about practicing for the pace bowlers and on a bowling machine you can put it to 90mph (145kph) but you can't have Dale Steyn bowling at you and swinging the ball," said Khan.
"So you have to face those bowlers to get the experience. Because my team are quick learners when they play against South Africa or India again they will do much better," he added.
Although the team failed to qualify for next year's World Cup, they do have full One-day International status and Khan said he wanted to see his players get chances in foreign leagues and more games on the international stage.
"We have not got a domestic structure in Afghanistan and preparing for a World Cup for three or four weeks isn't enough.
"We want all the big cricket countries to help us in that.
"We've got talent, the boys are quite ready and they are quick learners and we expect that all the cricket nations watching us will help in that regard.
"They could invite players for training camps, they could invite them into the domestic games as professional or semi-professional we don't mind, but they should play cricket.
"They have to play a lot more than a game or two. We've got ODI status, we can play Twenty20 internationals against any country in the world and the teams need to invite us," he added.