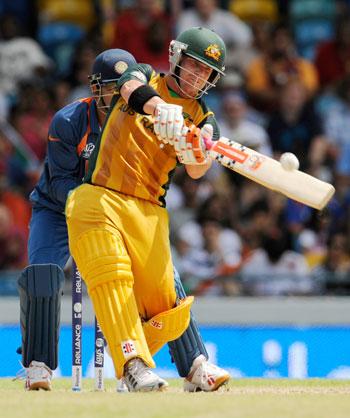 Captain Michael Clarke said Australia had the world's best Twenty20 opening batsmen after his team crushed India by 49 runs on Friday.
Shane Watson and David Warner blasted a 104-run first-wicket stand in 10.5 overs to set up a convincing victory over one of the tournament favourites.
"I believe we have the best two openers in Twenty20 cricket in the world at the moment," Clarke told reporters.
"I think they bat fantastically together, left-hand, right-hand combination, both very aggressive but if they need to take their time they don't seem distressed too much.
"They are two wonderful players and I am blessed to have them on my team," added Clarke.
The pair peppered all four corners of the ground -- and beyond -- hitting 13 sixes between them.
After Watson went for 54 muscular left-hander Warner, a Twenty20 specialist, went on to make 72 from 42 balls.
Australia's pace bowlers, led by Dirk Nannes and Shaun Tait, then ripped through the Indian top order to ensure they were never in a real run chase.
"If we continue to make totals like that, with our bowling and the way we are fielding, it is going to be hard for opposition teams to beat us," said Clarke.
"I think the growth of T20 cricket has helped every country. The IPL (Indian Premier League) has played a big part, guys are now learning more and more about how to play this game and how to be successful.
"I think you are probably learning as you go. I am certainly learning as I go as captain in this form of the game but having a squad like this certainly makes my job easier," he said.