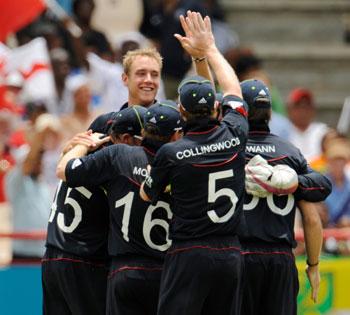 England captain Paul Collingwood has repeatedly highlighted that his team had things to improve even as they marched through the Twenty20 World Cup winning all their games in the Super Eight stage.
But after England cruised into the final on Thursday thanks to a seven-wicket win over Sri Lanka, dominating in all areas, Collingwood finally pulled back from his mantra.
"Let's be honest, there aren't too many areas we can improve on," he told reporters.
"We just need to keep the same mentality, and that's going to be the hard thing, going into a big game.
"But the boys keep responding. Every time we talk about it off the pitch, we analyse the opposition strengths and weaknesses and we keep executing our plans."
England had Sri Lanka at 36 for three at the end of the six Power Play overs and they never let their grip slip after that ideal start.
"I'm going to sound like a broken record but the bowlers have adapted superbly well again after we lost the toss on what I thought was a very good pitch," he said.
"The fielding was spot on, we held our catches and restricted them to a score that was obviously very gettable on that surface. I'm just delighted that we 'turned up' in such a pressurised situation," he said.
In the final, England will face either Australia or Pakistan, who meet in the other semi-final.
"I think everybody on the outside would want to see an England- Australia game but you've got to be careful, Pakistan are still a very dangerous side, you've got to show them a lot of respect, they are the world champions," he added.
"So no matter who we come up against we are going to have to continue to play the way we have played and hopefully that will be good enough.
"We've got ourselves into the position where we wanted to be - in the final but we've won nothing yet so we are just delighted that we've got here."