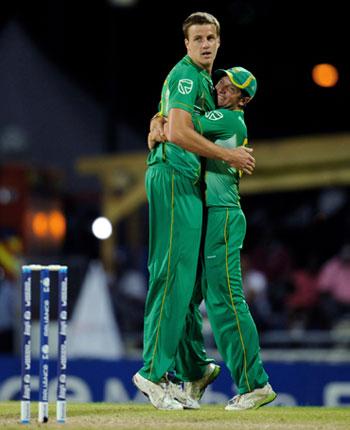 Morne Morkel and Charl Langeveldt shared seven wickets to bowl South Africa to a 67-run victory over West Indies in the third One-day International.
Morkel returned with a career-best figues of four wickets for 21 runs from seven overs on Friday, and Langeveldt took three for 30 in as many overs, as the South Africans successfully defended a victory target of 225 to win the match at Windsor Park with 72 balls to spare.
Morkel formalised the result, when Ravi Rampaul essayed an indescribable off-side stroke, and skied the ball to deep extra cover, where Johan Botha held a fine catch running backwards.
The victory gave the Proteas an unbeatable 3-0 lead in the five-match series, following a 66-run victory, under the Duckworth-Lewis Method, in the rain-marred opening match last Saturday at the Vivian Richards Cricket Ground in Antigua, where they also won the second ODI by 17 runs last Monday.
"It is fantastic to have won the first three games of the series, since series wins are always important," said South Africa captain Graeme Smith.
"We needed to bounce back (following the Twenty20 World Cup), and we did.
"We knew the pitch had a bit in it, although it was a little two-paced. We felt if our bowlers hit the deck hard, we could get some life out of it," he added.
A resolute 70 from AB de Villiers anchored the South Africans to a respectable 224 all out in 47.2 of their 50 overs, after they won the toss, and elected to bat on another belter of a pitch.
De Villiers struck just two fours and one six from 80 balls, as the Proteas' batting stumbled for the first time in the series.
South Africa's bowlers then made sure their limp batting performance did not lead to a terminal meltdown, and diligently worked their way through the brittle West Indies batting.
"I thought we let another one slip away," said West Indies captain Chris Gayle.
"Coming after that big effort in the last game, it was a bit disappointing for us, the way we batted. We still have two games to play, and all we can do is keep working hard at it," he added.
Langeveldt started the rout, when he had Gayle caught at slip for 16 in the sixth over, and Morkel kept up the pressure.
The lanky fast-medium bowler had opener Dale Richards caught at slip for the top score of 28, and trapped Darren Bravo, the younger brother of West Indies vice captain and all-rounder Dwayne Bravo, lbw for one to leave the hosts 63 for three in the 14th over.
Langeveldt then snuffed the life out of any plans the home team had to stage a recovery, when he returned for a second spell.
He snared Kieron Pollard caught at point for 10, and Darren Sammy, whose 50 in the previous match was the fastest by a West Indies batsman in ODIs, caught behind for 14 to leave the hosts 118 for seven.
Earlier, several of the South African batsmen got starts, but deVilliers was the only player to carry on, and tucked Dwayne Bravo through mid-wicket for a deuce to reach his 50 from 46 balls in the 37th over.
De Villiers was however, run out in the 44th over, when he failed to beat long-on fielder Sulieman Benn's direct hit at the bowler's end, after Dale Steyn turned down his call for a second run.
His dismissal epitomised the Proteas' innings, following another sound start of 53 from Smith and fellow opener Hashim Amla.
Every time it appeared South Africa were about to jam their feet down hard on the accelerator, they would concede a wicket to their opponents, whose bowling and fielding were much sharper than in the previous two matches.
Amla, the leading scorer on either side in the series, fell for 34, Jacques Kallis made 31, and Smith got 29 to be the main supporting cast in the South African batting.
Pollard was the most successful West Indies bowler with three wickets for 27 runs from six overs. Bravo and Benn supported with two wickets apiece.
Scorecard:
South Africa 
H. Amla b Benn 34
G. Smith lbw b D.J. Bravo 29
J. Kallis c Sammy b Benn 31
AB. de Villiers run out 70
A. Petersen b Pollard 16
D. Miller c Ramdin b Taylor 5
J. Botha c and b D.J. Bravo 18
R. McLaren c Richards b Pollard 5
D. Steyn b Rampaul 0
M. Morkel c D.M. Bravo b Pollard 14
C. Langeveldt not out 0
Extras (lb-2) 2
Total (all out, 47.2 overs) 224
Fall of wickets: 1-53, 2-91, 3-113, 4-153, 5-162, 5-197, 6-206, 7-207, 8-207, 9-223
Bowling: Taylor 8-0-39-1, Rampaul 10-0-45-1, Benn 10-0-43-2, D. Bravo 8.2-0-40-2, Sammy 5-0-28-0, Pollard 6-1-27-3.
West Indies
C. Gayle c Kallis b Langevelt 16
D. Richards c Kallis b Morkel 28
S. Chanderpaul c deVilliers b Kallis 24
D.M. Bravo lbw b Morkel 1
D.J. Bravo c deVilliers b Steyn 13
K. Pollard c Petersen b Langeveldt 10
D. Sammy c deVilliers b Langeveldt 14
D. Ramdin not out 15
J. Taylor run out 0
S. Benn c McLaren b Morkel 17
R. Rampaul c Botha b Morkel 7
Extras (b-4, lb-3, w-5) 12
Total (all out, 38 overs) 157
Fall of wickets: 1-29, 2-59, 3-63, 4-87, 5-93, 6-116, 7-118, 8-118, 9-147
Bowling: Steyn 7-1-19-1, Langeveldt 7-0-30-3, McLaren 5-0-34-0, Morkel 7-0-21-4, Botha 6-0-29-0, Kallis 6-0-17-1.