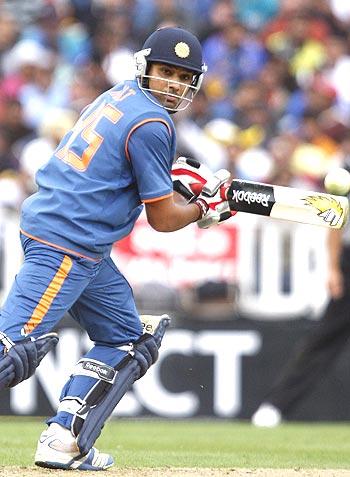 Having guided India to a thumping seven-wicket victory over Sri Lanka, Rohit Sharma attributed his red-hot form to his hunger for runs.
Rohit slammed his second successive century in the ongoing tri-series to help India put their campaign back on track with a seven-wicket crushing defeat of Sri Lanka in Bulawayo on Sunday.
The Mumbai batsman was delighted with his match-winning performance.
"It's always nice to get consecutive hundreds. I need to continue with the good form. It's just that I am hungrier for runs," Rohit, adjudged man-of-the-match for his 100-ball unbeaten 101, said after the match.
"It was nice pitch to bat on, the balls were coming on to bat. But it was also a two-paced pitch and some balls not coming nicely. You need to adjust and play shots accordingly," he added.
Rohit had hit 114 against Zimbabwe on Friday in India's campaign opener and said the joy of hitting the century was killed by the defeat.
"It was disappointing as we ended up losing the game. It was nice (scoring a hundred) today as we won," he said.
Rohit and Virat Kohli (82) shared a solid third wicket partnership of 154 runs off 168 balls, which laid the platform for an easy Indian win.
Indian skipper Suresh Raina, for whom the win was his first as captain, was all praise for the two batsmen but singled out Rohit for special praise.
"We first bowled well and Rohit and Virat then batted well. Back-to-back hundred is always special. Both Rohit and Kohli batted brilliantly but man of the show was Rohit," he said.
Sri Lankan captain Tillakaratne Dilshan rued that they did not put enough runs on the board.
"When you have 240 runs on the board, you have to bowl in the right areas. It could have been different had we got 280-290 runs on the board. The two run-outs really cost us," he said.
"There was no help (from the wicket) for the fast bowlers or spinners. They (India) batted well. Now we need to win next match on Tuesday to stay in tournament," he added.