31 overs bowled, 39 runs conceded.
Those are Pragyan Ojha's figures at the end of the first day in the opening Test between India and Australia, in Mohali, on Friday.
His job was to stifle the Australian batsmen from one end, apply pressure and force them to commit mistakes.
To say he did it commendably would be an understatement.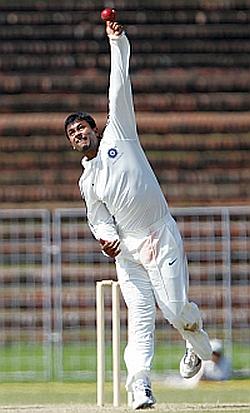 And Ojha carried forward the confidence to the press conference that followed.
"They (Australia) are under pressure," he said, about the visitors who were precariously placed at 224 for five at close of play.
"I think the way we came back in last few overs was great and considering the wicket is going to get slow as the match progresses, the present situation bodes well for us," he explained.
The left-arm spinner was unfortunate to miss out on wickets, especially considering his captain(M S Dhoni) dropped Ricky Ponting (an easy chance) off his bowling before the Australian had even settled down.
However, Ojha wasn't disappointed.
"In a game you know a couple of catches go down, but at the end of day we have got five wickets which make the match evenly poised," he said, in what was a very diplomatic reply.
The Hyderabad player said he was very clear about his role.
"My role was clear: to try and attack them by bowling stump to stump, wait for them to make a mistake and risk their wicket," he explained.
"I think I was bowling a perfect line, but they did not take any chances against me," he added.
With Ishant Sharma limping off the ground, the onus was on the three bowlers -- as India started the match with only four -- to bring India back into the game.
And considering Zaheer Khan made the best use of reverse swing, Ishant was certainly missed in the final session.
"If Ishant was there it could have been a bit different but Zak was amazing," said Ojha, adding, "Ishant has gone for a scan and I hope he comes back."