Allan Border failed. So did Mark Taylor.
Steve Waugh failed to conquer what he once described as the 'final frontier.'
And for Ricky Ponting it remains an as yet elusive target.
You guessed it right. Australia, despite their overall dominance, has struggled to win Test series on Indian soil over the years.
This despite having teams that were talented to say the least, and captains, like the name mentioned above, who were inspirational.
Since Bill Lawry led the men from Down Under to a comfortable 3-1 series – winning the Tests at Mumbai, Kolkata and Chennai - over a fledgling Indian team in 1969, the visitors have struggled to repeat the feat.
It has become increasingly difficult for the Australians over the years considering the Indian team has gone from strength to strength, becoming near invincibles on home soil.
The lone Australian series win in the last 41 years came in 2004 under an unlikely leader, Adam Gilchrist. In fact, when an injured Ponting returned for the fourth and final test at the Wankhede, with his side (under Gilly) having taken an unassailable 2-0 lead, he had to endure defeat.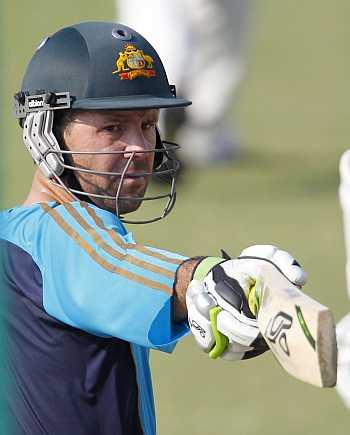 And on the last occasion they toured India (in 2008), Ponting's team received a 2-0 thrashing and left the Indian shores with their egos battered and bruised.  
Two years on, Ponting is back in India trying to secure that elusive series win. But if the Tasmanian is to believed, it is not revenge that is in his mind.  Instead, he is looking to inspire his side to playing some good cricket.
"It is not about revenge," says Ponting categorically, thereby dousing any possible controversy (read war of words) that might have happened with a flaring comment.
"It is about playing our brand of cricket. It is about preparing well for the series and starting well," he adds.
He goes on to elaborate the last part of his statement.
"Generally we are very good starters in a series, and the Indian team is somewhat of a slow starter," explains Ponting, adding, "This factor is a big boost for us, confidence wise."
The Australians, it may be recalled, had started out well in the opening test at Bangalore during the last tour in 2008. Only they failed to force a win. Or may be, the Indians didn't let them win.
Whichever way you put it, it marked the beginning of an Indian dominance in the remainder of the series. Ponting, on his part, has figured out what went wrong then.
"The last time we toured here, most of our bowlers had no experience on Indian conditions," he admits honestly.
"This time, we are better prepared though," he assures.
"It is a great challenge for us to take on the No1 team and we are looking forward to that," he adds, his reference palpably to difference in rankings between the two teams – Australia is now ranked no.4.  
Does Ponting believe his team can regain the top ranking?
"Of course," he replies, without batting an eyelid. "My responsibility is to ensure that we regain the tag of being the highest ranked team in the world.
"We are working hard to give ourselves a shot at that," he adds. It's been 10 days since the men from Down Under have landed on Indian soil and there's virtually been no mind games, no war of words. Uncharacteristic.. eh!
Not if their captain is to be believed. "It is important for the series to be played in the right spirit," says Ponting. "There's, in any case, a lot of negativity about cricket at the moment," he adds, referring to the fixing controversy involving the Pakistan team.
And Ponting's poignant plea does enough to ensure the upcoming series might as well be confined to just on-the-field action.