When Australia folded for 192 in their second innings on Day 4 in the first Test, on Monday, it bode well for Indian fans.
A slender 23-run first innings lead meant India needed to chase just 216 to win the Test at Mohali.
It was far less than what Rahul Dravid expected to be a good fourth innings target on this wicket.
"Anything between 250 and 260 should be a good total to get on this wicket," the former captain had said a day earlier.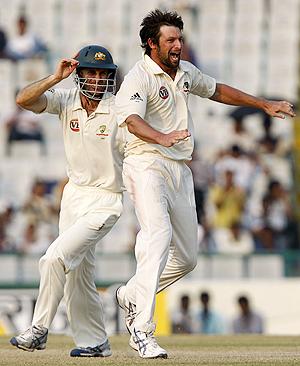 With an hour left on Day 4, and the whole of the fifth day, 216 was a difficult target for sure, but, certainly, not an impossible one.
However, even as the fourth day's play ended, India's task on the fifth got tougher than expected.
The home side was tottering at 55 for 4, with VVS Laxman a doubtful, rather unfit, starter, considering his back injury, and only Sachin Tendulkar to look up to on the final day.
And if the Australians were sensing an opportunity, they may as well be forgiven.
"We are definitely going out for a win," said Ben Hilfenhaus, whose figures of three for 22 was instrumental in triggering an Indian batting collapse.
"We will come out in the morning and target each of the remaining batsmen with a specific plan," he elaborated, adding, "And if we manage to get Sachin (Tendulkar) out early, it will make things easy for us."
The 27-year-old admitted the Australian batting had failed to capitalize on a good start.
"It was a disappointing day with the bat," he explained, before going on to credit the Indian bowlers.
"We have to give credit to their bowlers for the manner in which they executed their plans," said Hilfenhaus, adding, "They (Zaheer Khan and Co) didn't start very well, but switched on after 20 overs or so, and it put us under a lot of pressure."
However, the Tasmanian was quick to point out that the Australian bowlers had executed their plans to perfection on the fourth day.
"We knew we had a bit over an hour to bowl. So we knew we had to come hard right from the start," explained Hilfenhaus.
"And having them four down towards the end of the day meant it was a good day for us," he concluded.