Another Test, another defeat.
Ricky Ponting's Indian nightmare continued unabated in Mohali on Tuesday after the hosts eked out a one-wicket win in the first Test.
In the last six Tests that Ponting captained the team from Down Under (on Indian soil), he lost four.
And the Mohali defeat was one that hurt, especially considering the fact that Australia had India on the mat at one stage (at 124 for eight) but couldn't hit the final nail.
Ponting was the first to admit the disappointment.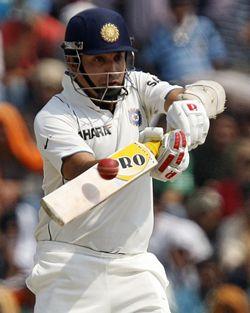 "There's no doubt we are disappointed with the result," he said. "It was a game we should have won. But India showed great quality and outplayed us in the last session," he added. So where did Australia exactly go wrong?
"It didn't go wrong," defended Ponting. "I thought we stuck to the task well. But,at the end of the day, we were not good enough.
"Our batting in the second innings wasn't good but the way we bowled after that is exactly how we would have liked it to be," he added.
Australia's captain was in a fix when asked to compare this defeat with the one in Kolkata in 2001.
Yet he blurted out the truth.
"This one hurts more," admitted Ponting, adding, "Because I was leading the side. In Kolkata, I wasn't the captain (Steve Waugh was)."
VVS Laxman was a thorn in Australia's flesh in 2001.
And that was the case in Mohali as well, a not-fully-fit Laxman scoring an unbeaten 73 to help India home.
Ponting surprised by saying he had anticipated Laxman's knock.
 "I told some of guys last night that Laxman was our biggest worry and that's how it turned out," he admitted, before adding, "I just felt he would make a big contribution.
"And, at the same time, I was trying to tell my team not to believe that India is a batsman short."
He also defended his decision of not persisting with Doug Bollinger despite the fact that the latter was impressive on day five.
"He (Bollinger) said he had some pain in the abdomen," explained Ponting, adding, "And since he is a fast bowler I decided not to risk an injury."
A tough competitor that he is, Ponting was quick put the defeat behind.
"It is important we don't dwell on the negative side and instead look at the positives from the game," he said, but admitted it will be difficult for his team now considering India have the momentum going in their favour.
"It will be difficult for us now. There is no doubt about it," he explained.
"But we need to bounce back. The first session in Bangalore will be very crucial," he concluded.