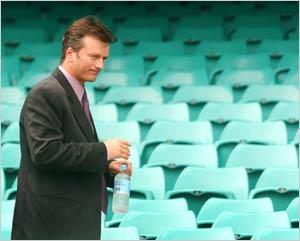 Describing the recent spot-fixing scandal as "unfortunate", former Australia captain Steve Waugh said young cricketers are giving in to the lure of fast money.
"We need to take appropriate measures to curb fixing. Now a days, a lot of youngsters are playing cricket. They are getting attracted to making easy and fast money by the bookies," he said.
"There has to be stringent measures and the guilty should be heavily punished at any cost. This is very unfortunate."
Suspended by ICC, Pakistan Test captain Salman Butt and pace duo of Mohammad Asif and Mohammad Aamer are under the scanner for their alleged role in spot fixing scandal exposed by a British tabloid.
During the Lord's Test, Asif and Aamir allegedly bowled three no balls after taking bribes from a bookie. Waugh earlier visited Udyan, a rehabilitation centre for leprosy patients about 35 kms from Kolkata.
The Australian, who runs Steve Waugh Foundation Global, said being a celebrity helps while working for a cause.
"I am aware of many NGOs who are doing more work than my Foundation. But having played as a professional cricketer for 18 years does help me in my charity work. It would be nice to have some Indian celebrities working for the cause for which my Foundation stands for."