After using his famed digits to publicly criticise captain Ricky Ponting on Twitter during Australia's Test loss to India on Wednesday, Shane Warne has proffered them to help embattled spinner Nathan Hauritz get his groove back.
Warne said Hauritz remained Australia's top spinner but needed to find form ahead of the Ashes starting next month after Indian batsmen tore him apart on the way to sealing a thumping seven-wicket victory in Bangalore.
"That's up to Ricky Ponting and (coach) Tim Nielsen, but if they are happy for me to work with Horry (Hauritz) before the Ashes, then I'm more than happy to," local media on Friday quoted Warne as saying.
"I will make myself available and fit it into my schedule.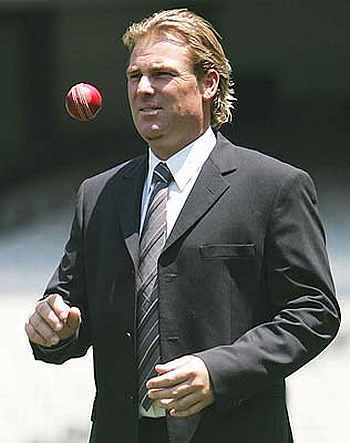 "Murali, Daniel Vettori and myself and a lot of other spinners have been smashed in India at times. That is no disgrace at all. How Horry bounces back in Australia this summer is the key."
Warne, who blamed Ponting for the porous field placement for Hauritz in his Twitter rampage on the final day, said that there was no question of rushing legspinner-in-waiting Steve Smith into the pressure cooker of Ashes cricket.
"In my opinion, Steve Smith is still a long way short of being Australia's number one Test spinner," he said.
The retired legspinning great's offer may be viewed dimly by Ponting, who earlier dismissed the Twitter critique as ill-informed and said Hauritz had set his own field.
Warne said he and 35-year-old Ponting had exchanged text messages to defuse any tension and backed his captaincy amid calls from former cricketers and media pundits for the gritty Tasmanian to step down and concentrate on his batting.
"Me and Ricky are mates and just because we have a disagreement ... doesn't mean we suddenly hate each other," said Warne, widely regarded as the finest spinner the game has seen.
Australia slumped to their third Test loss in a row after the 2-0 series defeat in India, their worst losing streak in 22 years, and have tumbled to fifth in test rankings.
Ponting, as ever, has remained defiant in defeat and scotched any notions that he would give up the captaincy after a solid batting performance in India where he scored three half-centuries.
"Absolutely (the right man for the job). I've got no doubt about that at all," he told reporters after touching down in Sydney late on Thursday.
"Even with my batting over in India I felt that I was really back on top of my game again after a reasonably lean 12 months for me last year with the bat," he added.
The five-Test Ashes series starts in Brisbane next month.