For India, it was a good chance to continue their domination from their Test series and also break their home 'jinx' against world champions Australia but the hosts thought otherwise.
A few senior players like Sachin Tendulkar and Zaheer Khan, who were in excellent form, were rested while others like Virender Sehwag were given time to recover from slight niggles.
For the record, India has not beaten Australia in a bilateral ODI series at home for nearly 24 years now. They won the 1986-87 series 3-2, but were beaten by that score in 2001. Australia, who have won have four ODI World Cups, were also dominant in the next two series in 2007-08 and 2009-10, winning both by 4-2 margin.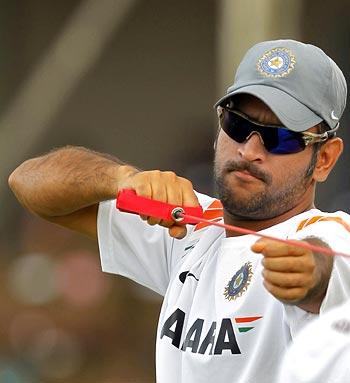 With 13 matches in hand to test their squad and other combination before the 2011 World Cup in February, India, it seems are taking it too lightly and leave it too late.
But India captain Mahendra Singh Dhoni defended the strategy of juggling with the players, saying that they are looking to players fit and fresh for the World Cup.
"Most of the players they have caught some kind of a niggle or injury. You have to be safe at the same time because they had been playing quite a fair amount of cricket. It is a jam-packed schedule. And, until the World Cup we will be playing the same amount of cricket which means it is better to rest the players if they have small niggles than allow the niggles to turn into injuries. So that's also one of the reasons. Also, resting a few players who have scored a lot or bowled a lot helps them keep fresh for the tournament," he said in Kochi on Saturday.
He also believes that it gives the selectors a chance to test the youngsters, who have impressed at domestic level and in other forms of cricket. "It also gives the opportunity to test your bench strength, give them the opportunity to play international cricket and maybe try to cement their place in the side. It is a blessing in disguise. It is the appropriate way to get the youngsters tested."
When asked as to why he was not taking rest despite having played nearly every form of cricket for India in the last few years, Dhoni replied: "It is an inside matter and it will remain inside. It is important to access you body before you opt for a rest. We certainly want to rest our key players. But then we have a look at the circumstances as well."
Dhoni said the five-match ODI series in South Africa will feature India's best players and everyone who would be going for the World Cup will be tried out.
"One of the reasons behind resting key players is to avoid injuries. We are hoping that nobody gets injured before the World Cup. Hopefully, we will play the South African series with the best eleven. We are bit on the defensive when it comes to saving players from injuries because it can happen anytime to anyone. So we will see rest is needed and if anyone wants rest so they can spend some more time to spend for their fitness," he said.
The Indian skipper pointed out that there a few slots available in the World Cup squad and it would be up for grabs in the next two series to be played against Australia and New Zealand.
"There are quite a few slots that are open. A fast bowling slot, you can say -- one or two depending on injuries, one batsman's slot. We don't have a world-class all-rounder, a world-class all-rounder which means that place is also up for grabs. Also, we are looking for one more big-hitting batsman who can fit down the order. The top five-six batsmen and totally, eight to nine are almost sure if injuries don't bother them. There are quite a few spots available depending upon the performance of the individual. It is also about what criteria the team wants to go with whether they want an all-rounder or stick with a batsman to work away with a part-timer. The slots will be open for quite some time now," he said.
Yuvraj Singh, who was dropped from the Indian Test squad for the Australia series, could be under pressure to retain his slot in the ODI squad.
But Dhoni was guarded in his response when asked whether it was a make or break series for the Punjab left-hander.
"Every series is important for every individual who is part of the side because more the competition the better it is for the side. Irrespective of whether you are an experienced player or youngster, whether you are coming back into the side or not, every series is going to be important. It is important for everyone. Whether it is Yuvraj Singh or me or Suresh Raina or some of the youngsters, it remains the same and it will be the same," he quipped.
But the Indian captain was forthcoming his praise of Jharkhand youngster Saurabh Tiwary, who many believe resembles Dhoni at the start of his career with his long locks and penchant for hitting the ball out of the park.
"We want to make him play. He was been part of the side for the last few series which means he has got a look at international cricket. He was there when we played some tough cricket, when we played Pakistan, Sri Lanka in Sri Lanka. It's an ideal opportunity for us to give him an opportunity in the final eleven. He is ideally suited for No. 6/7, the ones to go after the bowlers. He is aggressive. He backs himself to play the big shots. He has played the best bowlers in the world in the IPL and Champions League. We will see how best we can do to make him play."
But the Indian captain publicly warned Ravindra Jadeja, saying if the left-hander wanted to keep his place in the side he has to contribute with the bat.
"When he came into the side, he was more a batsman who can bowl. But in the last few series, he has done really well with the ball. But he has not contributed the same way with the bat. For a player like him, it is very important to contribute with the bat and at the same time, what he is doing with the ball is equally important. It is more like he has to do a bit more with the bat because more often we tend to play with four bowlers and one part-time who can contribute. We want it to keep it the same with somebody who can bat really well at No. 7. It is an ideal opportunity for him to prove himself. He is a good batsman and has scored tons of runs in the domestic circuit. Hope he scores runs in this series, which will help him cement his place in the World Cup squad," Dhoni said.
With rain forcing cancellation of the practice sessions, both the teams were restricted to their hotel rooms, but the Indian captain was not complaining.
"We couldn't do much after landing here. We had a team meeting, a sort of get together but we couldn't do anything after that. We wished we had pratice but the conditions in the ground were inappropriate because of rains. Today also our morning practice session was cancelled. We are still trying whether in the second half we could go if the conditions improve so that we can have some fielding practice. But such a report didn't come. It is better to have some rest rather than go there to the ground and see that nothing is possible. We got some good rest," he said.
After a well-deserved rest, India would be hoping to continue their recent good run, when the three-match series kicks off with the opening game in Kochi on October 17.
Teams:
India: Mahendra Singh Dhoni (captain), Murali Vijay, Shikhar Dhawan, Virat Kohli, Suresh Raina, Rohit Sharma, Yuvraj Singh, Saurabh Tiwary, R. Ashwin, Ravindra Jadeja, Praveen Kumar, Ashish Nehra, Munaf Patel, Vinay Kumar.
Australia: Michael Clarke (captain), Cameron White, David Warner, Shaun Marsh, Callum Ferguson, James Hopes, Mike Hussey, Tim Paine, Clint McKay, Doug Bollinger, Steve Smith, Nathan Hauritz, Mitchell Starc and John Hastings.
Umpires: Billy Bowden (New Zealand) and Amiesh Saheba; Third umpire: Sanjay Hazare; Match referee: Chris Broad.