Cricket Australia (CA) approved an IPL-style league on Friday but conceded the eight-team event would not be able to rival the financial gloss of the Indian Twenty20 tournament.
After the board meeting in Melbourne, chief executive officer James Sutherland said CA are "amenable" to private ownership in the expanded Big Bash League from 2011-12 season but finalising the terms would take more time.
"The Board has considered the position of private investment into these teams and taken a view that the board is amenable to that situation," Sutherland told reporters.
"It will, over the coming months, consider the terms under which that private investment may take place but the Board is certainly open to that."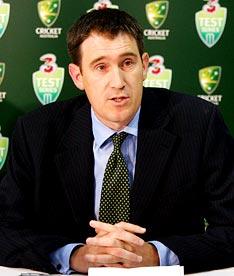 Local media reports claimed Indian companies are eyeing minority stakes in some of the teams, while Sutherland said the new league would not vie with the glitzy $4 billion IPL.
"I don't think we see ourselves as a competitor to the IPL (in terms of player earnings) and certainly the revenues that the Cricket Australia Big Bash League can generate," he said.
"In a small market such as Australia it's not going to be the same as the Indian Premier League. But at the same time this league is on the international stage and the teams that play-off in the finals will qualify for the Champions League."
The CA official envisages the league, to be played over a 5-6 week period in December and January, to be a 10-team affair by the next five years but ruled out any threat to the traditional Boxing Day (December 26) Test.