Pakistan's troubled captain Shahid Afridi, who is already under pressure because of his team's continuous dismal performance against South Africa, has now found himself dragged into another unnecessary controversy.
The Express news channel played up a report that though he was struggling as captain and player, the flamboyant all-rounder had not missed the opportunity to make some money by setting up a stall at the market for sacrificial animals in Karachi.
The channel reported that Afridi had set up a VIP stall at the market with the help of some other business partners and was selling high breed animals for sacrifice at Eid.
Taking obvious jibes at the fact that Pakistan captain had now turned to a meat businessman after opening up his car showroom and launching his own brand of clothes, the channel said animals at the VIP stall had become centre of attraction for visitors because of Afridi's involvement in it.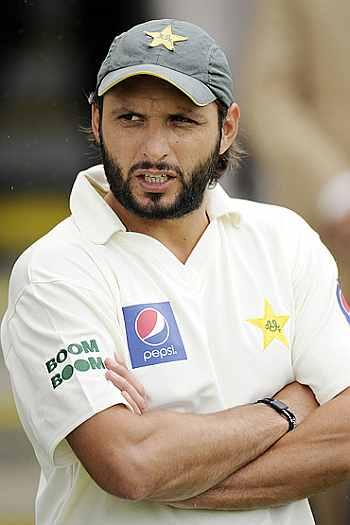 To compound matters, Pakistan's former captain and senior batsman, Mohammad Yousuf also visited the market and performed the ribbon cutting ceremony of the stall.
He also spoke about the benefits of the meat business.
The story clearly upset the Pakistan captain, who is in Abu Dhabi, to play One-day with the South Africans. Brother Mushtaq Afridi too seemed upset with the story.
"Who told you that my brother has opened a stall at the sacrificial animals' market? Tell me where is it? I have not seen it," Mushtaq questioned the newscaster on phone.
When reminded that Yousuf had performed the opening ceremony, Mushtaq, himself a first class cricketer, replied, "Prove to me this is our stall, we have no investment in it at all and we have nothing to do with it. Why drag my brother's name into it?"
Former players like Inzamam-ul-Haq and Yousuf have set up a chain of stores in Karachi and Lahore to sell top grade meat.
"We are even importing high breed animals from New Zealand and Australia as we want to provide top quality to our customers," said Yousuf.