Pakistan's One-Day International (ODI) and Twenty20 captain Shahid Afridi has called for the introduction of the referral system in ODIs, pointing out that one wrong decision by an umpire could change the outcome of the match.
"I think the referral system is a must in one-day matches," The News quoted Afridi, as saying to a TV channel, after his team's 121-run loss against England in the fifth and final one-day at Southampton in England.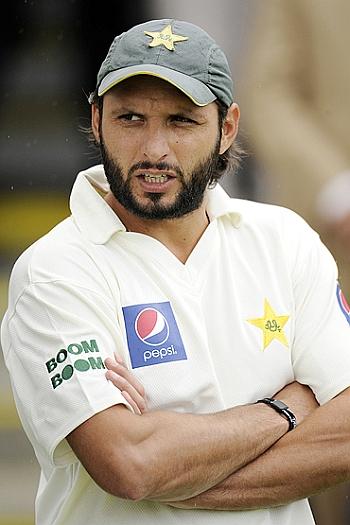 During that match, opener Kamran Akmal's controversial leg-before wicket (lbw) decision by the English umpire- Ian Gould- derailed Pakistan's chase of 257 runs, but the television replays clearly showed that Kamran had edged the ball onto his pads.
"One decision can change the whole match, some leg-befores... and I am not talking of this match only, also in previous matches; and if such things (wrong umpiring decisions) happen then it changes the whole match," said Afridi.
In the second match of the Pakistan-England ODI series, West Indian umpire Billy Doctrove, in spite of a strong appeal by bowler Umar Gul and wicketkeeper Kamran, declared England captain Andrew Strauss not out when on 38 runs, who then went on to make 126, and England, chasing Pakistan's 294 for eight, won the match by scoring 295 for six.
The International Cricket Council (ICC) introduced the Umpire Decision Review System (UDRS) on a trial basis in Test matches in June 2008, giving teams two opportunities per innings, to challenge on-field umpire decisions and refer them to a television umpire.
The most contentious issue with the UDRS seems to be that the technology costs have to be paid by hosts, a condition which is unacceptable to several countries.