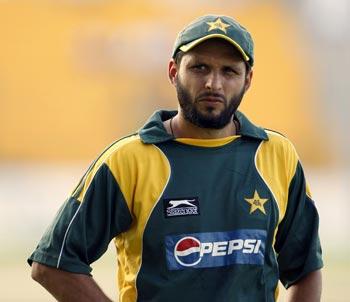 Coming hard at the suspended trio of Salman Butt, Mohammad Aamir and Mohammed Asif, Pakistan's ODI and T20 captain Shahid Afridi on Sunday said they should be kept away from the dressing room in the best interest of the team.
The trio are being investigated by Scotland Yard for the their alleged involvement in spot-fixing.
Afridi though said the England tour should continue despite that the crisis has been deepened after another revelation by British tabloid News of the World.
In yet another startling revelation, the tabloid quoted Pakistani opener Yasir Hameed as saying that almost all the Pakistani players are involved in match-fixing.
"We are encountering a tough situation and we can't afford to back off from this situation. Everyone knows how important this England tour is for Pakistan cricket. The tour of England will go on.
"I don't think that trio should be part of the team or the dressing room. Keeping them out is for our best interest," Afridi told Geo News.
While Pakistan team is in Cardiff to play first of the two Twenty20 matches, the trio is in London for the interrogations.
Afridi had earlier offered a public apology on behalf of the three players.
Afridi had also distanced himself from the events of the last week and insisted that his team is focused on the remaining matches of the tour.