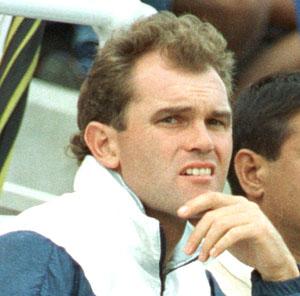 New Zealand cricket team may have been exposed to "spot-fixing" long before the alleged betting and corruption scandal of the England-Pakistan series were revealed, according to Black Caps legend Martin Crowe.
Crowe is doubtful about New Zealand's second Test against Pakistan in Wellington in December 2009. The Black Caps scored 99 and 263 and lost by 142 runs to Pakistan, who levelled the series 1-1 after losing the first Test in Dunedin.
"I was asked if I had ever been suspicious about a match. I replied: 'Often'," New Zealand Herald quoted Crowe, as saying.
"I remember that one in particular. There was a multitude of catches going down. I have never seen a worse fielding side in my whole life, and that includes club cricket.
"I remember in particular [New Zealand batsman] Peter Fulton chipping one to mid-on, where [Pakistani captain at the time] Mohammad Yousuf dropped it. It was an absolute sitter, a dolly," he said.
In all, there were five dropped catches, a missed run-out and one ball, at an easily catchable height, that eluded fieldsmen who should have caught it.
"Pakistan won that match comfortably, so I am not trying to say that it was match fixing. But it does make you think about spot-fixing," said Crowe.
"I have never had a bet in my life, so someone had to explain it to me in terms of how it works. They have things called 'brackets' [defined periods of play during a match] where punters can bet on all manner of things, which might or might not happen in that period of play," he said.
"That's what makes me think something could have been up in that test. It was the most pathetic display of catching I had ever seen. We talked about it [the fielding ability] on air [Crowe was commentator for SKY TV] at the time."
The issue came to light after News Of The World sting showed that Pakistani cricketers collaborated with match fixers to deliberately produce no-balls at agreed times, allowing bettors to place wagers in the knowledge they could not lose.
Fast bowlers Mohammad Amir, Mohammad Asif, and Test skipper Salman Butt have been implicated but have maintained innocence, despite evidence against them. The ICC banned the three Pakistani players until the matter is resolved.
The ICC is also investigating 11 New Zealand-Pakistan matches, with the Wellington test certain to be among them.