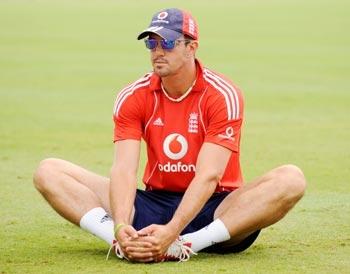 England coach Andy Flower, has said that he believed that the comment posted by Kevin Pietersen on micro-blogging site Twitter was a genuine mistake.
"I take him at his word that it was a genuine mistake. Of course he's got feelings about it but it has been dealt with now and we move on," the Guardian quoted Flower, who left training on Monday to go to London for Pietersen's disciplinary hearing, as saying.
Flower declared that he would not stop England players from using Twitter because of the controversy, but added that they "must act responsibly", otherwise "we'll be forced into restricting the way they use it and we don't want to do that."
"We want to allow the public access to our players and make them interesting to the public because a lot of the players are very interesting people. But it has to be done in the right way," he added.
Talking about Twitter, the coach claimed that he did not "quite understand the attractions of it"
Pietersen, left out of the England team for the one-day and Twenty20 series against Pakistan, had expressed his anger on Twitter, calling it a "fuck-up".
Following the outburst and controversy surrounding it, Pietersen posted a public apology, saying he had tweeted the message by mistake and wanted to "apologise for the language I used." 
Meanwhile, Flower said that he would have taken Pietersen for the Twenty20s, had the second game not clashed with the first day of Surrey's Championship match.
"The priority is the Ashes and we want to help Kevin get back into his best form. OK, he was out for a duck on Tuesday but his century against Sussex was outstanding practice for him and I know he enjoyed that innings," he added.