India's 1983 World Cup-winning captain Kapil Dev on Thursday expressed anguish over the spot-fixing scandal, saying the three tainted Pakistan cricketers have brought shame to their country and fans.
"I think it is a serious matter that somebody can play with your feelings and the feelings of the entire country. I think it is sad. Today, I am not feeling sad about those three Pakistani cricketers, but I am feeling sad for the Pakistani people, who love the game and have so much time for the cricketers, but the cricketers have let them down. The entire country is being looked down at today," Kapil said in Mumbai.
Last month, British tabloid News of the World's sting operation on London-based bookie Mazhar Majeed caught three Pakistani players -- Salman Butt, Mohammad Asif and Mohammad Amir -- allegedly involved in bowling deliberate no-balls during the Lord's Test against England.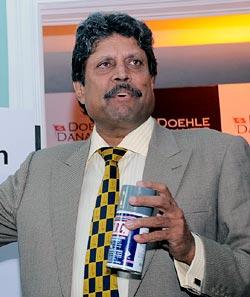 "Yes, sometimes the cricketers do get carried away, but you can't sell your country. I hope we learn from every negative thing that happens. I am a positive man and I can only say and hope that other cricketers can learn from this incident and this should not ever happen again," the former India all-rounder said.
"As a cricketer, I sometimes feel ashamed that people who are playing are bringing the game to this level," he added.
Kapil wants the International Cricket Council to take quick action and levy punishment.
"I don't know what ICC should do, but whatever ICC wants to do, they should do it fast, because this type of problem should not come up again and again. It is up to the ICC and the individual boards to make sure that they do something about this issue," he said.
The former India captain and coach also refused to believe that the senior players in the team are not involved in the scandal, saying the young players alone could not be involved in it.
"I would say sometimes the senior players are more responsible than anything else. I can't believe that a young player can take steps like that without the senior players' consent or them being aware. If the senior players have good ethics, the young players always pick that up. A young player, as young as Amir, doing this, is really sad."
Kapil, who was part of the rebel Indian Cricket League, also slammed critics of the Indian Premier League.
"It is important that IPL is giving scope to lot of young players to come and play the game and to enjoy the game. Why not think about the positive side? Just because one person comes and points out the negative side, why do we keep harping on it? I am not bothered about that. I am thinking of million of people around the world who are getting enjoyment and hundreds of players who are getting opportunities to show their talent. That is more important to me," he said.
On the occasion, he announced his association with Doehle Danautic Logistics & Trading Pvt. Ltd, which aims to work towards creating a corrosion-free India.
Kapil stressed on the issue of corrosion and the losses incurred across industrial verticals and pointed out that the cumulative loss of corrosion in India amounts to almost three percent of the GDP.
"The biggest losses are incurred in the infrastructure sector which has intensive use of iron and steel. Several infrastructural projects are being constructed, like Sky Walks, Mumbai Metro, Mono Rails, flyovers, wherein iron and steel are most widely utilized. Iron and Steel are infrastructure materials get badly affected by corrosion because of which the structure gets damaged in less than five years," Kapil said.