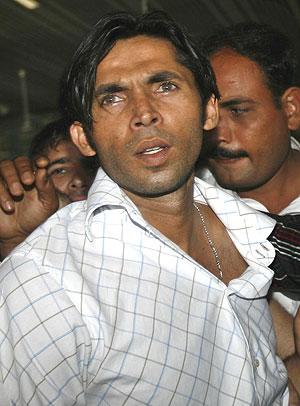 Pakistan fast bowler Mohammad Asif, one of the three cricketers at the centre of the spot-fixing scandal, is mulling over making a claim for political asylum in Britain to avoid going back to his country, where fans are said to have acutely reacted to the allegations.
Asif feared not only violent backlash from cricket enthusiasts, but also that criminal gangs associated with the illegal betting underworld could target him because of the scandal.
"I think he's just worried about the backlash at home – that's what he told me. There's been a lot of talk and there are undercover betting mafias with a lot of power – that seemed to be what he was worried about," The Daily Telegraph quoted the solicitor from London firm, Malik and Malik, who had a discussion with Asif, as saying.
He had a meeting with the immigration lawyer for over half an hour, and is said to have inquired about the ways of extending his stay in Britain, including the asylum process.
"He didn't say anything about asylum at first. He just said, 'what's the way to stay?' Then we told him there's the student way – you can come here to study – or you can apply for a work permit. But then he asked about asylum," the lawyer spoke on condition of anonymity.
The 27-year-old fast bowler insinuated that he would prefer to stay back and await the investigation report by Scotland Yard and the International Cricket Council (ICC) before taking the asylum claim further.
Immigration experts opined that Asif could hold a viable case if he succeeded in proving that there was a danger to his life in his home country and the authorities there were unable or unwilling to provide him protection.
Asif had asked an intermediary to fix a meeting with the lawyer in London last week, and the meeting was apparently held at a Pakistani restaurant in Southall, west London, on Friday. He (Asif) came with an unidentified older person and was said to have looked "very anxious."
The Pakistan High Commission refused to comment on the issue and the Pakistani team manager said that he was unaware of Asif seeking asylum.