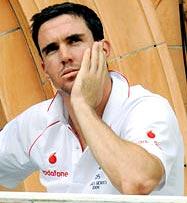 England's cricketers have been warned to mind their manners on Twitter after two players were fined for using obscenities on the social network site.
"With freedom of speech comes responsibility. It must be used that way," England and Wales Cricket Board (ECB) managing director Hugh Morris told BBC radio on Sunday.
His comments came after former captain Kevin Pietersen and all-rounder Dimitri Mascarenhas were fined for using obscenities in Tweets criticising England selectors.
Pietersen was fined an undisclosed amount for his language in a Tweet giving news of his omission from England's one-day squad at the end of August, while Mascarenhas was ordered to pay 1,000 pounds over his message earlier this month. Both players have apologised.
"There will be some management around the use of Twitter," Morris said. "It's a good opportunity but it needs to be used in the right way."