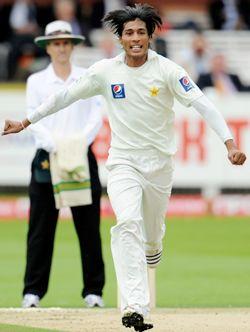 Pakistan's teenage pacer Mohammad Amir, who is implicated in the spot-fixing scandal that has shaken world cricket, could become an informant for the ICC and reveal "dodgy betting identities that corrupted him" to escape a life ban, a media report in Melbourne said on Tuesday.
According to a report in the Daily Telegraph, Amir is ready for the "high-risk roll of the dice that could put his life in danger."
Quoting sources, the newspaper reported that the 18-year-old fast bowler is contemplating co-operating with  police and the ICC's investigations into the spot fixing and match-fixing allegations that have followed a British tabloid's sting operation on alleged bookie Mazhar Majeed. 
Amir is currently in Pakistan after being provisionally suspended by the ICC along with Test captain Salman Butt and fellow pacer Mohammad Asif. 
The trio allegedly conspired to bowl no balls to order during last month's Lord's Test against England. 
"It is understood the 18-year-old wants to tell his story and possibly give evidence against Butt, Asif and other Pakistani players under investigation. 
"Given his tender age, inexperience and potential co-operation with authorities, there is a high likelihood that Amir could receive a watered-down penalty compared to the life bans that could be dished out to some of the other alleged cheats," the newspaper reported.