Wahab Riaz, the fourth Pakistan player in the spot-fixing scandal that rocked world cricket, will be interrogated by Scotland Yard on Wednesday, team manager Yawar Saeed said.
Left-arm pacer Riaz was due to be questioned in London on Tuesday.
"There is no specific reason for the interview not taking place today [Tuesday], but both sides had prior commitments, so the time has been switched to Wednesday," Yawar said.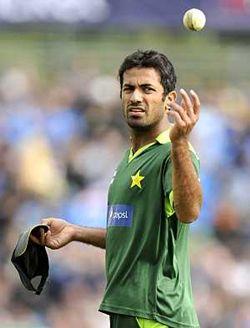 The Pakistan Cricket Board denied being under pressure to allow Scotland Yard interrogate Riaz and said it has done so as it wants to cooperate fully in the ongoing inquiry into the spot-fixing and betting allegations.
"It is absolutely incorrect that there is any pressure or any directive on the PCB from any quarter not to play Riaz in the ongoing one-day series," PCB legal advisor Tafazzul Rizvi said.
"There is no bar from either the ICC, ECB or any investigating agency on Wahab playing for Pakistan. His not being selected in the ongoing series after the first T20 match is purely a selection decision of the team management and tour selectors," Rizvi said.
Riaz's interrogation is significant, as he appears in the video released by British tabloid News of the World, in which he is seen exchanging a jacket with alleged fixer Mazhar Majeed outside a restaurant in London.
The tabloid had claimed that Mazhar had placed 10,000 pounds in the jacket as partial payment for the no-balls bowled by pacers Mohammed Aamir and Mohammed Asif in the Lord's Test against England.
Test captain Salman Butt, Aamir and Asif, who were at the centre of the 'spot-fixing' scandal, were suspended by the International Cricket Council and interrogated by the Scotland Yard before they returned home.