The Pakistan Cricket Board is not aware whether Mohammad Aamir is contemplating becoming an ICC informant in the ongoing investigations into the startling spot-fixing scandal.
A media report had claimed that Aamir may turn an informant of the game's world governing body, which had suspended the pacer along with Mohammed Asif and Test captain Salman Butt.
The trio have challenged the suspension and asked for a preliminary hearing into the allegations.
"I don't think this will happen and generally speaking in legal terms even if you turn state witness it does not mean a clean sheet for that person," PCB legal advisor Tafazzul Rizvi said.
Rizvi said it was difficult to say when the Scotland Yard would complete its investigations and whether it would yield results.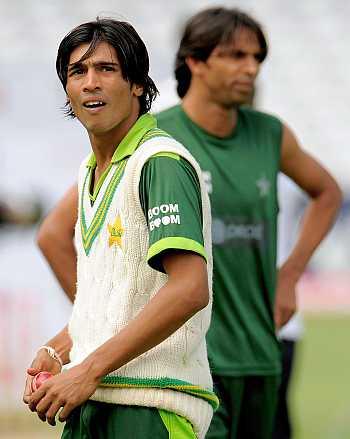 But he admitted that the players, if not cleared, could be staring at bans ranging from six months to life and could also be let off with heavy fines. "It all depends on what the inquiry throws up," he said.
Rizvi said PCB had adopted a wait and see policy over the ongoing investigations.
"It could be completed in a few weeks time or it could take months but we don't know when it will end," he said when asked if the Board had the 2011 World Cup in mind while looking at the issue.
Scotland Yard on Tuesday quizzed a fourth Pakistani player, pace bowler Wahab Riaz in London in connection with the ongoing investigations.
Rizvi was also not sure whether Scotland Yard could question more Pakistani players.
"So far they have not informed us about wanting to talk to any other player and they also spoke to Wahab after informing us," he said.
Rizvi said that the three players had responded to the ICC notices sent to them in their individual capacity.
"PCB Chairman Ijaz Butt has written to the ICC chief executive over the provisional suspension imposed on our players but we were told by the ICC that the players have a case to answer and they must respond to the notices themselves," he added.
He insisted that it was a wrong impression that the PCB was not playing a pro-active role in resolving the controversy, which was bringing a bad name to Pakistan cricket.
"They are some things which we can't speak on or discuss at this time but rest assured we are following up on every development every hour of the day. For the time being we are fully cooperating with the ongoing investigations but we will wait and see. We have options available to us," he said.