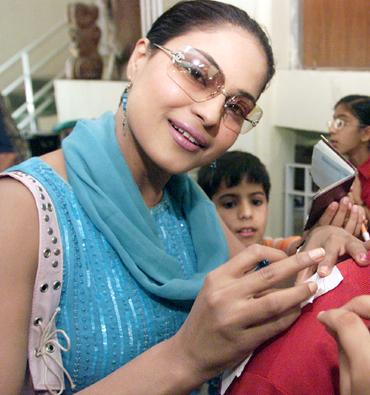 The former girlfriend of Pakistan fast bowler Mohammad Asif, actress Veena Malik, has said that she has received death threats after speaking out about the match-fixing scandal.
Veena revealed that she received a terrifying email after handing evidence of Asif's dealings with an Indian bookie to the International Cricket Council (ICC).
"Don't talk to the media, keep your mouth shut, bitch. I'll kill you, watch what I do," The Sun quoted the email, as saying.
The 27-year-old also said that a man had visited her two weeks ago to threaten her.
"I can't sleep at night because I fear for my life. But if I have to die, I will die. I'm not scared of threats. I warned the Pakistan Cricket Board (PCB) about match-fixing eight months ago, but I was ignored. Now people have to speak out," Veena said.
Asif is one of three Pakistan players to be suspended and sent home amid allegations of  "spot-fixing" by bowling deliberate 'no-balls' during last month's Lord's Test against England.
Earlier, Veena had launched a scathing attack on the 27-year-old pacer accusing him of being a 'serial match-fixer'.
Veena revealed that before the Pakistan team flew to Australia last year, Asif had made a sudden visit to Bangkok to meet certain bookies.
"He went to Bangkok to meet some bookmakers within a notice of 24 hours. This is when we were in a relationship. The conversation on the phone before the tour of Australia was specifically about fixing," Veena had said. 
"I have more evidence of his involvement and I can show that he and some other players also indulged in spot fixing on the Australian tour," she added.
She further said that Asif had influenced 18-year-old Amir to indulge in the activities.
"He said that he called Aamir and influenced him to get involved on the Australian tour," Malik said.
Veena also alleged that Asif, who was caught for doping during the first season of Indian Premier League (IPL), bribed some well-known people to get his ban reduced to one year.