Opening a new front, Pakistan Cricket Board chairman Ijaz Butt on Tuesday demanded the sacking of International Cricket Council (ICC) chief executive officer Haroon Lorgat over his role in handling the match-fixing allegations.
Butt's comment came after the PCB accused Lorgat of violating the ICC rules by launching an investigation into the third One-Day International between England and Pakistan at The Oval without taking the PCB into confidence.
"It's terrible," Butt reacted when asked about the ICC's decision to investigate the third ODI.
"With no proof, just got some material from the media. What's this, nonsense," he said.
"He (Lorgat) is an employee of ICC. ICC in their meeting should consider sacking him (Lorgat). They should also investigate the English team. Go ahead and investigate both sides and see who is responsible," Butt added.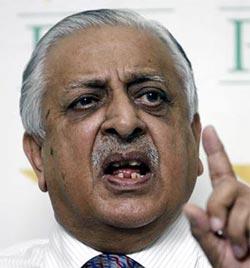 As per the ICC rules, Lorgat should have informed both the boards before taking any decision on the spot-fixing allegations levelled by a British newspaper The Sun against the Pakistani team.
But the ICC CEO, instead of consulting the two boards, issued a statement to the media.
Continuing his flip-flops, Butt had on Monday said that he was in no mood to back down from his strong statements against the ECB and ICC on spot-fixing allegations against his team.
The statement came after Butt did a U-turn where he said that he never accused the England team of match-fixing, barely a day after suggesting that English players had thrown the Oval ODI and that they should be investigated by the ICC.