Australian skipper Ricky Ponting should take inspiration from cricketing legend Sachin Tendulkar in order to resurrect his fading batting form, according to former captain Mark Taylor.
Ponting is aware that he needs to score more consistently than over the past two years if his team wants to win cricket's three most prized trophies.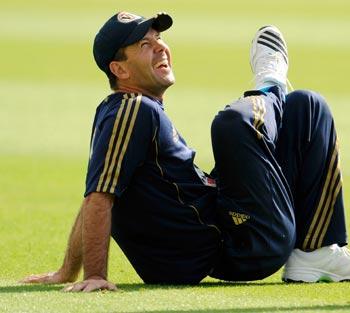 Ponting average has been around 40, as opposed to a career record comfortably above 50, a decline the Australian team can ill-afford.
Taylor said 35-year-old Ponting would not get any better but was still capable of match-turning innings.
"He is not getting any better. He may no longer be the batsman he was in his late 20s but he is still a very good batsman. Honestly, Ponting's best is behind him but he is still capable of scoring big hundreds," Taylor told DNA.
Taylor pointed out that the weight of leading a young and evolving Australian team was a burden that could bring down any batsman, The Sydney Morning Herald reports.
"I think Sachin has had a rebirth. He is really batting at his best and that can be a sort of inspiration for Ponting. It might be difficult for him to overhaul Sachin's number of centuries because the Indian master is lengthening the gap between them," said Taylor.
"But Ponting has this job of rebuilding the Australian side. The current Australian side is very much his. Seniors like Adam Gilchrist, Glenn McGrath, Shane Warne, Matthew Hayden have all gone. It is a much younger side," he said.
"I think Ponting's focus has moved a little bit away from his personal milestones. In that sense, Sachin is fortunate. He does not have to worry about captaincy. That is probably the reason why he is making hundreds," Taylor added.
Taylor said Ponting still had the challenge ahead of him to bring his team out of a phase in which good performances were too often undermined by the odd bad session.