Explosive India batsman Virender Sehwag is one of four leading cricketers chosen by the International Cricket Council as its ambassadors for 2010-2011.
The ICC has named five ambassadors, including Australian umpire Simon Taufel, for the year, during which its flagship event, the ODI World Cup, will be jointly staged by India, Bangladesh and Sri Lanka.
Sri Lanka captain Kumar Sangakkara, England's World Twenty20-winning captain Paul Collingwood and Australia vice-captain Michael Clarke are the other ambassadors.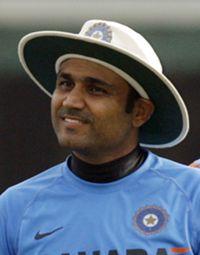 "Virender, Michael, Kumar, Paul and Simon have so much to offer and to have access to their valuable time and energy for issues of importance to the ICC is beneficial to the game as a whole," ICC Chief Executive Haroon Lorgat said.
"By making appearances at press conferences, social events and coaching clinics, the ICC Ambassadors will also provide valuable support and general awareness of the activities of the ICC and its key stakeholders," he added in a statement.
For Sangakkara and Taufel, it is the third successive time that they have been appointed as ICC Ambassadors since the programme was launched in 2008, while Collingwood, Clarke and Sehwag have been appointed for the first time.
Previous ICC Ambassadors include India's Rahul David, J P Duminy of South Africa, Charlotte Edwards of England and Lisa Sthalekar of Australia.