'We must not pre-judge the guilt of these three players'
Last updated on: September 3, 2010 10:21 IST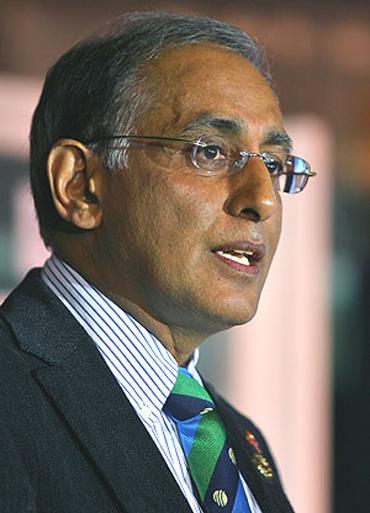 Pakistan Test captain Salman Butt and opening bowlers Muhammad Amir and Mohammad Asif face possible life bans after they were charged on Thursday under the International Cricket Council's (ICC) anti-corruption code.
The ICC said in a statement the trio had been provisionally suspended from all forms of cricket and related activities until the case was concluded. They have 14 days from the receipt of the charges to appeal to an independent tribunal.
"We must be decisive with such matters and if proven these offences carry serious penalties up to a life ban," ICC chief executive Haroon Lorgat said.
"It is important that we do not pre-judge the guilt of these three players. That is for the independent tribunal to decide."
'They mentioned that they are entirely innocent'
Last updated on: September 3, 2010 10:21 IST
The trio attended a meeting in the high commission in London amid chaotic scenes in which photographers, camera crews and reported jostled for positions.
"They said they are extremely disturbed at what has happened," Pakistan High Commissioner Wajid Shamsul Hasan told reporters. "They mentioned that they are entirely innocent."
The ICC announcement came at the end of a dramatic day which started with the Pakistan Cricket Board bowing to intense pressure from the ICC and the England and Wales Cricket Board and withdrawing the trio from the remainder of their tour.
A seven-match One-day series starts with a Twenty20 match between Pakistan and England in Cardiff on Sunday.
Police confiscated the three players' mobile phones after allegations in a British newspaper that they taken bribes to fix incidents in the final Test against England at Lord's last week.
'There will be subsequent replacements for the ODIs'
Last updated on: September 3, 2010 10:21 IST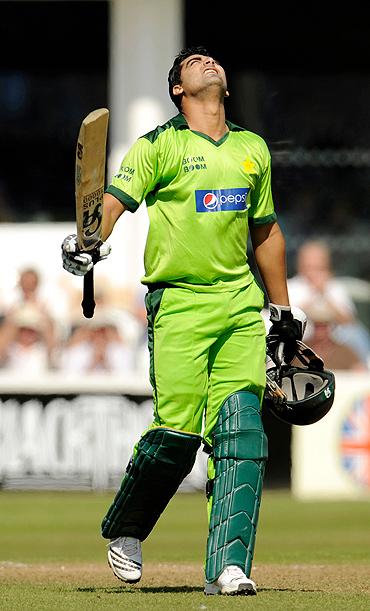 The London Metropolitan police have been working with the anti-corruption unit after a report in The News of the World newspaper which alleged that Amir and Asif had bowled deliberate no-balls by pre-arrangement in the fourth Test against England.
A 35-year-old man arrested as a result of the police investigation on suspicion of conspiracy to defraud bookmakers was released on police bail.
The news that Butt, Amir and Asif had been dropped was announced by team manager Yawar Saeed before play began in a One-Day warm-up match against Somerset on a sun-drenched day in Taunton.
"The T20 squad for two games will remain as it is here this morning, this means 13 people. For the One-Day internationals subsequently we will be asking for replacements to make up the squad of 16 again," he said.
ECB chairman Giles Clarke said the board welcomed the decision.
"As chairman of the ICC's (International Cricket Council) Pakistan task team I look forward to working with Haroon Lorgat, the ICC chief executive, the chairman of the Pakistan Cricket Board and everyone involved in taking forward cricket in Pakistan," Clarke said in a statement read to reporters.
'The whole team is suffering because of this'
Last updated on: September 3, 2010 10:21 IST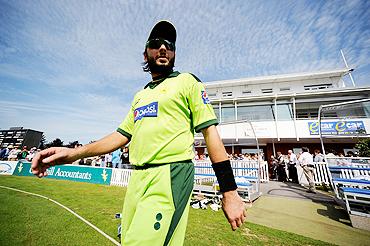 While the news was breaking, a large crowd at the Somerset county cricket ground was enjoying the sun as Shahid Afridi, returning to action as the One-Day captain, led his team to victory by eight runs.
A small but vociferous group of Pakistan supporters expressed their disappointment at missing the chance to see Amir, in particular, but also condemned the readiness of the British media to criticise their team.
"If they are guilty then they should be punished," Beenish Faridi said. "But these are allegations only and you can't blame the whole team. The whole team is suffering because of this."
Source:
© Copyright 2022 Reuters Limited. All rights reserved. Republication or redistribution of Reuters content, including by framing or similar means, is expressly prohibited without the prior written consent of Reuters. Reuters shall not be liable for any errors or delays in the content, or for any actions taken in reliance thereon.