India drop catches as Sri Lanka fight on
August 06, 2017 10:30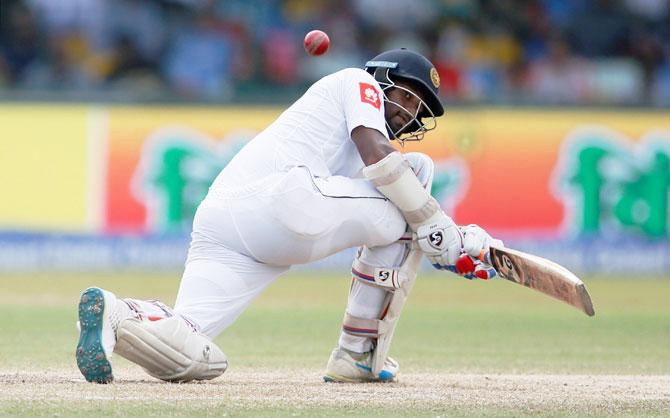 SL 227-2 (67 ovs) and 183 (49.4 ovs)
India 622-9 decl (158 ovs)
|
Scorecard
Karunaratme gets his 6th Test century with a boundary through to long on.
It's his first vs India.
It's up to Karunatne and Pushpakumara to see out these overs if they are to stay in the match. So far they have managed to nullify any threat from Shami and Jadeja and have survived thanks to two dropped catches by Kohli and Rahul.
Jadeja continues and he is coming over the wicket to Karunaratne. The batsman tries to play it down and is put down by KL Rahul at short leg.
Shami continues and he is employing the same strategy of bowling around the wicket to Karunaratne and he has beaten him again with that late swing.
Karunatne gets a run through to mid-wicket and an accurate Shami just gives one run in the over.
Jadeja continues and an attacking field is placed for Pushpakumara keeping in mind the turn he is getting.
The batsman gets a single and brings Karunaratne on strike, who cuts for a single.
Pushpakumara then gets an edge and the ball goes past slip and gully towards the third man boundary.
The batsman goes after Jadeja and hits the ball for a boundary through mid-on.
Sri Lanka get off the mark for a day as Karunaratne takes a single down to third man off Shami and 2 runs come off the over.
Night-watchman Pushpakumara is beaten by Jadeja, That was a close call.
Jadeja getting turn and bounce and Pushpakumara survives. That is another maiden over.
« Back to LIVE
TOP STORIES