Cook playing his final Test
September 07, 2018 15:59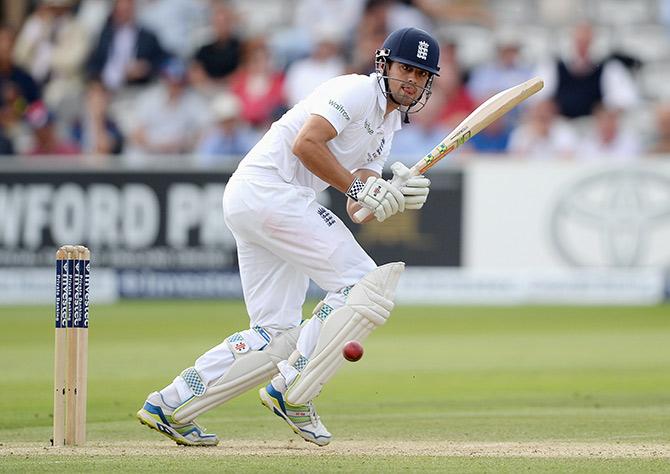 Bumrah and Ishant have started well for India, while openers Cook and Jennings are yet to fire.
Bowlers are in control while the England batsman are struggling to find the runs.
Jennings doesn't look very positive at the crease as Bumrah continues.
He gets very little foot movement even as Bumrah makes the ball talk.
He leaves one which comes across but off the last ball off the over, Bumrah makes Jennings play. The batsman fishes for the ball, but gets no edge.
Ishant continues and he is bowling a fuller length.
Off the 3rd ball, it's too full and straight and Cook gives it the treatment. He plays the ball off his pads and it races past mid-wicket for a boundary.
Four runs come off the over.
Bumrah continues and troubles Jennings who gets beaten.
Jennings and Cook then take a run each to end the over.
Ishant opens the bowling from the other end and Cook gets off the mark with a nice shot through square-cover for 3. That alo brings up his 1000 runs in Test cricket at the Oval.
A dot ball later, Jennigs gets off the mark with 3 runs past cover, good work by Jadeja to keep the ball from going to the boundary.
Bumrah opens the bowling for India while Cook takes strike in his final Test.
Bumrah starts over the wicket and starts with bowling across the left-hander and bowls a lovely over. Just one run comes off it, a bye to open England's scoring.
« Back to LIVE
TOP STORIES