Morgan, Karthik rally KKR to 163 against SRH
October 18, 2020 17:40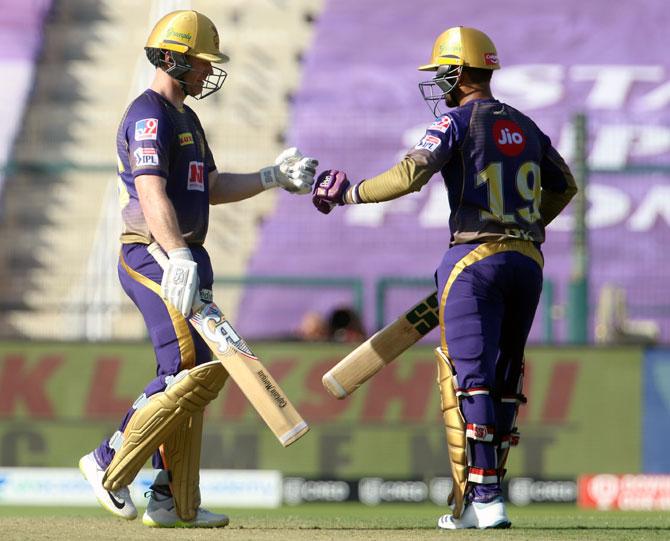 KKR 163-5 (20 ovs) vs SRH
Natarajan comes back, to bowl the penultimate over.
Karthik smashes the first ball straight down the ground for a four before he tries to slog the next over midwicket but is deceived by the change of pace.
Another slower ball as Karthik mishits it over the leg side for one and Morgan slaps the fourth ball down the ground for two runs.
A full delivery as Morgan misses the flick and is hit on the pads before Karthik lofts the last ball over long-on for a six, to get 14 runs from the over.
Thampi to bowl the final over. Morgan inside edges the full toss through midwicket for two runs before he lofts the next down the ground as the fielder at long-off puts in the dive but has touched the boundary skirting while pushing the ball inside and it is ruled a boundary.
Morgan then swipes the next through midwicket for two runs to raise the 50-run stand for the fifth wicket from just 27 balls.
The fifth ball is right in the slot, full and on the stumps, as Morgan despatches it over square leg for a six.
Thampi does well to bowl a good yorker as Morgan digs it out towards long-on and comes back for the second.
The pacer ends the innings with a wicket as Morgan tries to smash it down the ground but is caught at long-off with Pandey taking a good running catch.
Morgan walks back after a good hand of 34 from 23 balls, having put on 58 runs from 30 balls for the fifth wicket, to rally KKR to 163 for five in their 20 overs.
Ex-captain Karthik also played a quickfire cameo of 29 not out from 14 balls, with KKR hitting 58 runs from the last five overs, to make a good comeback.
« Back to LIVE
TOP STORIES