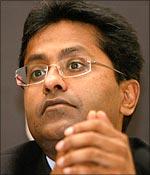 Indian Premier League (IPL) chairman Lalit Modi threatened to terminate contracts of Australian players and ban state sides from the Champions League Twenty20 if they fail to release their players for the third edition of the IPL next year.
Dates of the last round of the Australia's domestic competition -- Sheffield Shield -- and the mega BCCI event are clashing but Modi wants the state sides to release their contracted players for the competition.
Modi said they respect players' commitments to their countries but wont' mind if players skip domestic duties for IPL.
"The IPL 2010 season is in March-April, when a lot of domestic tournaments will still be on. This is a one-off situation. The IPL requires No-Objection Certificates from the home boards for players to participate in IPL.
"This was essentially done to protect the FTP (Future Tours Program) commitments. However, this (NOC) does not include domestic tournaments," Modi said.
The IPL chairman said they could take an extreme action but hoped a solution will be worked out.
"A worst-case scenario could mean penalties on such players, including termination of contracts, jeopardising future participation. However, we do not want to walk that path and are hopeful to sort this through discussions with the boards," Modi was quoted as saying by the Australian.
Australia's domestic side New South Wales had won the inaugural Champions League and took home US$ 3 million prize money.
However, some of the Australian state teams are adamant to have their players for the domestic competition.
Cricket Victoria chief executive Tony Dodemaide reckons that state duty comes first.
"Clearly we will expect our players to compete for Victoria," Dodemaide said.
A few Australian players like Justin Langer and Simon Katich were recently paid out by their franchises without having to compete in the second edition of IPL in South Africa.