- Scorecard: India vs West Indies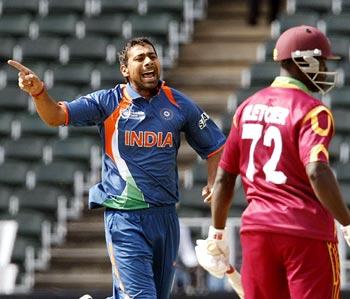 India outclassed the West Indies by seven wickets, but despite the convincing victory were eliminated from the ICC Champions Trophy, in Johannesburg, on Wednesday.
Their fate was sealed earlier in the day when Australia booked a place in the semi-finals after a thrilling last-ball, two-wicket win over Pakistan, which meant India finished third in Group A.
Australia took the top place in the group, Pakistan placed second and the West Indies fourth.
Electing to bowl first, India dismissed the depleted West Indies for 129, courtesy seamers Praveen Kumar and Ashish Nehra, who claimed 3 for 22 and 3 for 31 respectively.
Virat Kohli was unbeaten on a solid 79 from 104 deliveries, inclusive of nine boundaries and two sixes, as India finished with 130 for three in 32.1 overs.
WEST INDIES:
Kumar claimed a wicket in the first over of the innings when he had Andre Fletcher caught at first slip by Rahul Dravid for a duck. (0-1, 1)
He stuck to a good line and length, with not much pace, and bowled two maiden overs on the trot as the West Indies failed to open their account after three overs.
Left-hander Kieran Powell got his team off the mark with a cracking boundary through the covers in the fourth over and Devon Smith followed it up with another boundary in the next as the West Indies reached 13 for one after five overs.
Nehra then crippled the West Indies further with two wickets in his fourth over.
Powell pushed at an outgoing delivery, but could only edge it behind to wicketkeeper Dhoni for 5. (26-2, 7.4)
Two deliveries later Smith took the long walk back to the pavilion. The left-hander played a loose shot outside the off-stump and was caught behind for 21. (27-3, 8)
West Indies captain Lloyd Riefer got an early reprieve when Dinesh Karthik dropped an easy catch, diving to his right instead of letting Dravid take it.
The two pacers had given India the perfect start as the West Indies were reduced to 30 for three after ten overs.
Riefer (1) could not make the most of his early reprieve and edged one straight to Karthik at second slip off Kumar, as West Indies slipped to 31 for four.
Interestingly, with the medium pacers getting a fair amount of help, captain Mahendra Singh Dhoni handed over the gloves to Karthik and decided to bowl a few overs.
The first ball, a short delivery, was hit by Travis Dowlin for a boundary through midwicket, while the second one was despatched through the covers in the 17th over.
However, he had his revenge two deliveries later when Dowlin got an inside edge and was bowled for 14, giving Dhoni his first wicket in international cricket or in any form of the game. (57-5, 16.4)
India's captain had bowled just seven overs in first class cricket but decided to take up gauntlet in this vital match for his team and the gamble paid off.
Dave Bernard and Darren Sammy found the going really tough against the Indian spin duo of Harbhajan Singh and Amit Mishra, who bowled ten overs between them for just 29 runs while picking a wicket.
Mishra struck with the wicket of Bernard, who fell after a useful innings of 23 from 46 deliveries. The right-hander tried to cut a wide leg spinner from Mishra, but the edged was neatly held by Dravid at first slip. (89-6, 27)
With just four wickets remaining, the West Indies decided to take the Batting Powerplay hoping to score some useful runs with the fielding restriction in place.
Sammy made 23 from 38 deliveries before he hit a short delivery from Nehra straight to Mishra on the square leg boundary as West Indies' troubles worsened. (99-7, 29.1)
Harbhajan Singh finally seemed to have found his rhythm back as he bowled with flight on a good line and length. He bagged his first wicket, that of Royston Crandon for 5, in his sixth over when he bowled the batsman through the gate as he attempted to drive through the covers. (102-8, 31)
Harbhajan soon had his second wicket when Kemar Roach was caught off by Gautam Gambhir at silly point off an inside edge. (122-9, 34.3)
Gavin Tonge pulled Kumar for a boundary through square leg but fell off the next delivery attempting a similar shot. Tonge, who made 5, got a top edge and was taken by Kumar himself as the West Indies folded for 129 in 36 overs.
The day belonged to the two Indian pacers, Kumar and Nehra, who ended with remarkable figures of 3 for 22 and 3 for 31 respectively.
Harbhajan Singh regained some much-needed form, claiming two for 14 in eight overs, while captain Mahendra Singh Dhoni claimed one for 14 in two overs to register his first wicket in international cricket.
INDIA:
Gautam Gambhir tried to guide a short delivery towards third man but ended up inside edging it onto his stumps for 6 by Kemar Roach in the third over. (7-1, 2.5)
Rahul Dravid followed when he was run-out for 4, attempting a tight single but the direct hit at the non-striker's end caught him short, leaving India in a spot of bother. (12-2, 3.2)
Youngsters Virat Kohli and Dinesh Karthik opted for a watchful approach as India reached 34 for two after ten overs at the dinner break, chasing 130 for victory.
Kohli started off with a boundary in the first over after the break when he pulled a short delivery Sammy through midwicket and Karthik bagged his boundary in the next over when he slammed Roach through the same region.
A few overs passed off without boundaries before Kohli decided he had enough and carted Bernard through mid-wicket for a huge six in the 18th over. The Delhi youngster completed his half-century in style, off 79 deliveries, when he smashed Bernard for three consecutive boundaries to take India to 95 for two after 26 overs.
Meanwhile, Karthik tried to have some fun and lofted Tonge over mid-off for a boundary. However, he fell off the next delivery, attempting another big shot, for 34 from 79 deliveries, inclusive of four boundaries. He tried to loft a length ball from Tonge straight back over the bowler but ended up lobbing a simple catch to Dowlin at mid-on. (104-3, 27.4)
His 92-run partnership off 146 deliveries for the third wicket with Kohli had helped India recover after the loss of early wickets.
Kohli accelerated the scoring rate in the closing stages and launched left-arm spinner Nikita Miller for a big six straight down the ground and followed it up with a boundary through mid-wicket two balls later. He finished unbeaten on 79 off 104 deliveries as India ended up with 130 for three in 32.1, for an easy seven-wicket victory with 18.5 overs to spare.