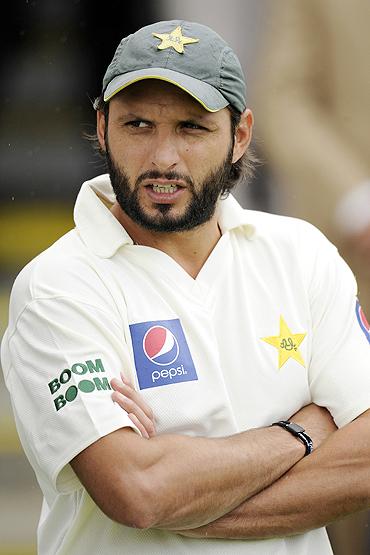 Pakistan ODI captain Shahid Afridi reckons that the Umpire Decision Review System (UDRS), increasingly common in Test cricket, should also be introduced in one-day international format.
"It will be good in matches like this and big series like this. It's important in cricket now. I know in Twenty20 you don't have much time, but in one-day cricket you would," The Dawn quoted Afridi, as saying.
Afridi's call came over a decision where England captain Andrew Strauss was given not out by West Indian umpire Billy Doctrove despite a strong appeal by bowler Shoaib Akhtar and wicketkeeper Kamran Akmal.
Akmal held what he thought was a one-handed catch off Strauss when he was on 38.
Strauss went on to make 126 as England, replying to Pakistan's 294 for eight, finished on 295 for six.
Talking about the row, Strauss said: "I wasn't sure it hit my glove. The umpires are there to make a decision."
Afridi also said that he was happy with the crowd turn out for the second ODI at Leeds.
"It's a very great sign and we are expecting more fans in London and Hampshire as well. If we play cricket at this level, definitely the crowd will come and they will enjoy the game," he said.
The third ODI of the five-match series will be held at The Oval on Friday, which will be followed by Lord's on Sunday and Hampshire's Rose Bowl on September 22.