2008 was a roller coaster ride for Harbhajan Singh. Fighting his way through several controversies in the year, he settled down to find a place among the best spinners in the world after a stellar showing in India's triumphant run in Tests and One-Day Internationals.
The just-concluded New Zealand tour turned out to be the icing on the cake as he emerged the highest wicket-taker in both formats of the game with India winning the one-day and Test series, the latter after a gap of 41 years. Anil Kumble was gone, but Harbhajan ensured the leggie's absence was not felt.
It was not only his bowling, but a new-found penchant for batting that had the Kiwis dumbfounded. And, it comes as no surprise that the 28-year-old is now focussing on honing his batting skills and becoming the elusive all-rounder India has been looking out for.
He is now looking to stamp his mark on the Indian Premier League, from which he was banned last year after a few games following the slapping incident.
In a candid conversation with Chief Sports Correspondent Harish Kotian, Harbhajan reflects on the year that was and the secret behind India's recent winning run.
How special was the New Zealand tour? India ended up winning both the ODI and Test series, a first outside the subcontinent?
Every match is important; but if you consider the record, we are very satisfied. We won the Test series in New Zealand after 41 years, which is special. And winning both the ODIs and Test series was even greater.
You played a major part in the Test series win, India's first win in New Zealand after 41 years. How satisfying was it to help India break that jinx?
Obviously, when you contribute in the team's success you feel great. I feel very high that I have made a contribution to the team's success. I am really happy.
After the retirement of Anil Kumble this was India's first away tour, where you took over as the team's number one spinner. Did the extra burden of added responsibility help you? You finished with a rich haul of 16 wickets, while Daniel Vettori did not have even half that tally?
There is nothing like after Kumble's retirement I am taking extra responsibility. Even before I used to play with the same commitment. I have got the results and I am very happy about it. I was looking forward to bowling well and did I bow well, with a good rhythm, in the one-dayers and Twenty20. I was high on confidence and got wickets even in Test cricket. I was only looking to bowl well and not bothered about the results.
So far it has been good, but still there is a long way to go. You need to keep working hard and stay fit. I am sure if I do that I will have done a good job trying to fill in for Kumble.
You seem to be working hard on your batting as well. In the last eight Test matches you hit three half-centuries and every time it helped India either win the match or save it?
I am working on batting also because it is important for all the batsmen, even lower down the order, to make a contribution. Cricket is a very demanding game and you can't just ignore your batting. You need to work hard on your batting and get better.
I had this bit of good flow about my batting, and used to stroke the ball well, but never took it seriously. Nowadays I am working very hard on my batting and taking it seriously. I give a lot of importance to it and that is why I am getting the results, which is scoring runs consistently.
If you notice, even my shot-selection has improved a lot. Before, I never took batting seriously and concentrated all my efforts on improving my bowling. But the game has become so demanding that you have to do well in all the three departments [batting, bowling and fielding]. Only then you can make a good contribution to the team's cause.
Why do you believe this Indian team can beat any team right now?
Belief is very important. All the boys are confident and we all believe in each other; we are one tight-knit unit. The strength of our team lies in its unity and that is why I think we can beat any side anywhere in the world and on any day of the year. We have a lot of talented players in the team; it is just a matter of getting our act together.
We have been getting our act together. We know how to make things work together; we will just keep working hard on our game to keep getting better and getting the results we want.
India's ODI team was on a winning run in the last few months. We beat Sri Lanka twice in their own backyard, blanked England 5-0 and now this victory in New Zealand. Would it be fair to say that we are the best ODI team in the world?
Definitely. In fact, I would say that both our ODI and Test teams are the best in the world. There are very few teams around the world that can beat us at the moment. I think we will have to play really bad to lose a game. The talent that we have in our team right now… even if three guys click we can take the game away from the opponent.
How did this transformation from a moderate side to world beaters come about?
Some players in the team have been playing for a long time and they are confident of themselves. It also depends on the management... how they boost your confidence. There are times when a player goes out in the middle thinking that he only has a couple of innings to prove himself. But the BCCI and team management have shown faith in the players and given them enough chances to prove themselves. That is the sort of confidence the players need; now they go out in the middle and play their game freely.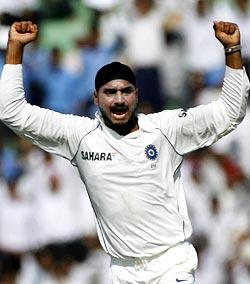 Whether you play domestic cricket or international cricket it does not really matter, because at the end of the day you are still going out only to play cricket and not to see the opponent's faces, whether it is [Glenn] McGrath or Shane Warne or some other domestic player bowling. Previously, some players who did well in domestic cricket could not do well at the international level because they had the fear of failure in their mind. Now the players get a lot of support from the BCCI, the team management and I think that makes a big difference; it allows the players to perform with a free mind.
You were banned from the IPL last year after the slapping incident with S Sreesanth. So how keen are you this time to prove yourself?
I don't have to prove myself to anyone because the whole world knows what I am capable of. It is not as if one incident will change your whole life. It is okay, because everyone makes mistakes. Whatever has happened has happened; it is the past now. I have moved on from that and showed the world that I can play tough cricket, take wickets and win games for my country. Everyone knows I am a match-winner.
Last year I was the [joint] second-highest wicket-taker in the world with 63 wickets in Test cricket [behind Dale Steyn with 74 wickets]. So, I think, I have taken a long step forward from that period [slapping incident].
Whatever happened is finished; it is not wise to keep talking about it again and again. There is no point looking back because woh log jo peeche dekhte hai, woh aage nahi badte [people who look back at the past don't move ahead in life].
Zaheer Khan and you did a good job leading the Indian bowling attack in New Zealand. Are you confident that you two can repeat the magic in the IPL for Mumbai Indians?
We will try our best, because in Twenty20 cricket you can't say what is going to happen. There is hardly anything for the bowlers in the format. But, as I said, I will go out there and try to give my best for the team.
Do you believe Mumbai Indians, with a few new players, is a better-balanced team than last year, when it failed to make the semis?
In Twenty20 you can't say which team is better. No matter how balanced a team is, at the end of the day what matters is that you have got only 20 overs. If your top two or three batsmen play out the full 20 overs, no matter how many top batsmen you have in the middle order they won't be needed at all.
It is a short version of the game and I think any team can beat any team on its day. I can't go out and say that this team is strong or that team is strong. If you consider a team's strength on paper, or by its line-up, then we would have never have won the Twenty20 World Cup [in 2007]. On paper we were a young side. But the results worked out in our favour, because we were playing better cricket, smarter cricket than any other team in that tournament.
All our batsmen clicked and I think I batted just once in the whole tournament. So, if your batsmen are doing well, the lower order is not exposed. If the frontline bowlers also do the job well, you don't need part-time bowlers.
Looking at the Mumbai Indians, we have got a good side but all the teams have got good players. I believe any team can win the tournament. The perfect example of that was last year when Rajasthan Royals went on to win the IPL when nobody had given them a chance at the start of the tournament.
Taking into account the conditions in South Africa, do you think fast bowlers will play a big role in this year's IPL?
I hope fast bowlers get a bit of help early on in the first few overs, otherwise it will again be dominated by the batsmen.
How important a tournament will it be for Indian players, considering that the Twenty20 World Cup, where we are the defending champions, is a few days after the IPL?
The IPL will provide great practice for all the players who will be taking part in the Twenty20 World Cup. Many of the players you will see in the IPL will also be taking part in the World Cup, so, certainly, it will be good practice for everyone ahead of the Twenty20 World Cup.
Twenty20 is such a difficult game for spinners. How do you manage to keep the balance between stopping the flow of runs and taking wickets?
In Twenty20 you got to be smart and make sure you don't give free-hit balls. As it is, all the deliveries bowled by a spinner are like free-hits. All batsmen try and go after spinners, because I have not seen anyone defending against the spinner and trying for singles. That is why you have to outthink the batsmen and plan your bowling according to the batsmen you are bowling to, and according to the field that you have set. You have to think quite fast in Twenty20 cricket because even a small mistake can result in sixes.
Quite a few times you have been accused of crossing the line, as far as your temper is concerned, but now you seemed to have mellowed down. Would you say it is plain anger or passion for the game that brings out the aggression in you?
I have always been passionate about the game and I will always remain passionate. I get angry because somebody is enjoying our mistake or somebody is trying to be over-smart.
That's the way I am. When I am in the dressing room I look to enjoy and have fun, but when I am on the field I am the toughest guy to beat.