Shaun Marsh took India by storm with his wonderful batting performance in the inaugural season of the Indian Premier League in 2008.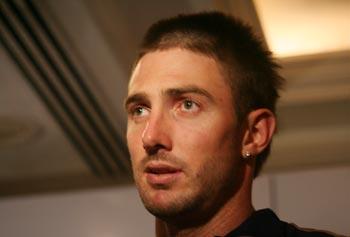 From being a little known Australian left-hander, the son of former Australian batting legend Geoff Marsh, Shaun hit the headlines following his successful IPL stint.
The Aussie selectors also realised his potential and the young opener was soon fast-tracked into the Australian team for the ODI series in West Indies, where he started with a cracking 81  on debut.
Just when it looked Marsh had sealed his place in the Australian team, disaster struck in the form of injuries ruling him out of cricket for nearly eight months.
He also missed the second season of the IPL in South Africa and spent a few months on the sidelines before he was recalled for the seven-match ODI series in India.
World champions Australia are on a roll having won the ODI series in England 6-1 and the ICC Champions Trophy and not surprising Marsh is finding it tough to make it back to the team.
He, however, is ready to wait on the sidelines and when an opportunity does present itself, grab it with both hands.
Chief Correspondent Harish Kotian caught up with Shaun Marsh during the Australian team's open media session in Mumbai.
How difficult do you think it will be to break into the Australian team with Tim Paine and Shane Watson doing so well at the top of the order?
Yes, I must admit it would be very difficult to get into the team.
Those two [Tim Paine and Shane Watson] have been fantastic for the last few months.
I have got no expectations at the moment on whether I am playing or what number I am batting. I am just happy to be a part of the team.
If I get an opportunity in the eleven that would be fantastic, whether it is opening or down the order. I will just have to wait and see in the next days how it goes.
You had virtually no cricket for the last six months after being ruled due to injuries. Do you think that will count against you atleast in the first part of the series?
I played a little bit of cricket in the last month or so like a few practice games and some domestic games for Western Australia.
The team selection is out of my hands and I am not worried about that.
As I said before I have no expectations at all and I am ready to play whenever selected. I am really happy to be a part of the 14-man squad and will wait for the next few days to see what happens in the series, but I will ready 100 percent.
You had a successful outing in India in the IPL two years back where you finished as the top scorer in the tournament with 616 runs at 68.44? What is the key for a batsman to do well on Indian pitches?
I think it is just biding time.
Once you are used to the wicket it is nice to bat on. I find it really good to bat once I got settled and used to the wicket and it was easier to score. If I get an opportunity to bat in this series, that is what I will be looking to do -- biding my time at the start and look to get a feel of the wicket.
Hopefully I can score a few runs and help my team build a big score.
What is your strategy to counter the Indian spinners? You certainly had a look at Harbhajan Singh and Amit Mishra during the IPL in 2008. What would be your game plan against them?
Harbhajan Singh and Amit Mishra are two fantastic bowlers. I think the best way to play them is look to play straight down the ground and use your sweep shots well.
I am looking forward to the challenge of playing against those  two spinners on these wickets. I think to come over here and do well against the spinners in these conditions in front of their home crowd will be a huge challenge.
How do you rate this Indian team? They were knocked out of the Champions Trophy in the group stages and their bowlers have struggled recently so does that make Australia the favourites?
They must be disappointed to have been knocked out early from the Champions Trophy.
Any Indian team that you come across is always very competitive especially when they play at home. They have got some world class players and they are very tough to beat in their home conditions.
But we are very positive that if we play like we have been doing for the last four or five months we can win here too.
What a fantastic opportunity it would be for the young group to come over here and knock them on their home soil. There is a feeling in the team that we can do that but we all know how dangerous the Indian team can be.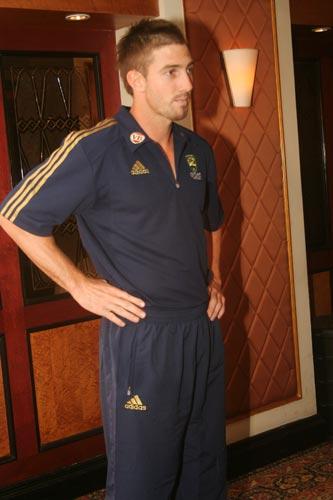 How important is to acclimatise to conditions ahead of a series especially in a country like India where conditions are completely different to back home?
Definitely, we need to acclimatise. It is completely different to back home. To come over here and train for 4-5 days ahead of the series is crucial for us.
It is a lot hot and humid here so we try and get our bodies adapted quickly to the conditions, which is very important part of the preparation.
Your father Geoff Marsh had a pretty good record in India, having scored 836 runs in 18 ODIs at an average of 49 with three centuries including one in his first match. Any advice he gives you before you set out to tour this country now or during the IPL first season?
Well, he gave me a bit of advice when I left for the first season of the IPL. He just said it is always a great place to bat on once you get in but it is also a hot place too so you got to acclimatise very quickly.
He also said once you get in it is a beautiful place to play because the outfield is quick and there is full value for your shots.
One important feature of Australia's victory in the Champions Trophy was the role of young players like Tim Paine, Cameron White and Peter Siddle? How has captain Ricky Ponting managed to get the best out from the youngsters?
It was fantastic to see the young players do well. Tim Paine was fantastic at the top of the order, while Peter Siddle is a very good bowler.
Cameron White has come of age in the last 12 months and produced some great performances for Australia. It is fantastic for Australian cricket with the young players coming up and doing well in international cricket.
We all have grown up together and played against each other a lot in domestic cricket, junior teams or youth teams.
So when we are playing together as a group for Australia there is a real good buzz in the team that we can play together and do well.
How disappointing were you to miss out on the IPL second season in South Africa? And did you get a chance to catch up with your Kings XI Punjab team-mate Yuvraj Singh?
I am really disappointed that I missed the IPL but I am looking forward to coming back in March next year.
Yeah, saw Yuvraj a few days ago and we had a chat. That is good about the IPL that you get to know a few international players. The IPL is a very competitive tournament when we play but off the field we are good friends.
It is good that we are staying in the same hotel and get to mingle but come Sunday once we cross the white line it will be a different story.
Photographs: Sanjay Sawant